Published in Georgia

- Social interactions and entertainment - 5 years ago - 0
 First steps in eRevollution Hello everyone, and welcome to 
eRevollution 2
! We proudly present the new server that we've been working on so hard for the past few months. So similar and yet so different, the new gameplay will put all your economic, military or diplomatic skills to the ultimate test.
The main goal is the same, build your own character doing whatever you love most (build companies, fight in battles, write newspapers articles, be a politician etc.) and together with other players lead your eCountry to many victories. Become a businessman, a congressman, media mogul, a government member, a soldier, and the best part is- you don't have to choose between them, you can become all of it if you wish!
Here are few short steps for new players and how things work in game
To work, you need to go to My buildings Companies and apply for job then click on "Work". You can "Work as manager" in your companies by clicking in blank square next to companies which you built. When you choose in which companies you are going to work, you have in bottom button "Work" and you click on it.
You have 20 land spaces to build your companies. When you delete one company, you can build another one in same space, but limit stays same - up to 20 companies. If you have 20 companies and want to buy another one from market you won't be able to do it. In companies you can work as manager and you can place workers in it. Notice that if you work as manager you are not able to place workers to work afterwards, you have to work as manager and place workers at the same time.
All product you make in your companies go to storage, you are starting with 1000 storage points including products placed on market, if you have 1000/1000 products you are not able to receive products by donations/contract/work. You can expand your storage by buying new one. You will also be able to get storage points from missions.
To workout, you need to go to My buildings Training grounds and then click on Train. You can workout only once a day.Training ground is the place where you gain strength. Strength is most important thing for players who will fight. More strength you have more damage you can deal. Training grounds are limited to build in start- every 10 days you can upgrade it. 
Energy bar is on the left side under your profile. Every 6 minutes you get 10 energy points. You can get faster regeneration of energy by using House. Every house you activate provides you -seconds of your regeneration. Also if you are needed for more energy, you can buy it in our store.
Country President is an elected leader of a country. Country Presidents are tasked with the job of representing their country in the political, economical and military matters. 
Congress elections will be held on the 15th day of every month, and afterwards congressmen can impeach or elect a president, as well as change minimum wage, set country taxes etc.
Presidential elections will be held on the 5th day of every month.
We would like to inform you that training battles will start from Day 2.

Premium members - players who have purchased gold on eRevollution server 1 can contact us via support to receive a prize for server 2
We are searching for a person who will make video tutorials for eRev2 for our YouTube channel. He/she will be awarded with Gold gift for that task.
Searching for new Moderators

Once again we are looking for new moderators.
To apply you have to meet certain demands:
Age above 20 yearsMust be available at least 3-4 hours a dayMust be active as much as possibleGood English knowledgeMust be without a ban
When applying we urge you to write about yourself as much as possible, like where you come from, how old you are, how much time you have, what you do, if you had any previous experience with being a Moderator. The better you introduce yourself, the better chance you have to be selected as a Moderator.
Some questions to answer, for better application:
Do you have experience with Moderating in any game?Are you a quick learner?Have you ever been banned in eRevollution 1?Do you have a job?Do you have access to computer at least 3-4 hours per day?Do you play the game via mobile or computer?Are you active in Skype?What is the reason which made you send us application for moderator position?What do you believe you can really contribute to our moderation team?Describe your character.
Send your application to our email: 
erevollutiongame@gmail.com
For any questions, problems, feedback, feel free to contact us via any of the official channels. You can use them also to inform yourself about news, maintenance schedule, updates and any other info regarding the game.
That is it for now, we will write more soon. We hope you will enjoy the game and have fun as much as we did while making all of this.
Sincere regards,
eRevollution Team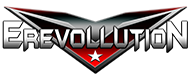 Support