Published in Croatia

- Social interactions and entertainment - 4 years ago - 39
Dear Players,
as we announced before, you will be able to buy eRev2 pack from 09.01 to 13.01. Please beware that in that pack you will able to buy land place, but only in the first 2 purchased packs, after that rewards will be changed. So when you buy it for the 1st and 2nd time you will have one type of prizes, and if you want to buy it 3 or more times you will have different rewards afterwards.

Edit: if you wish to gift the pack to someone else, that person will still receive the land space in their pack even though (for example) it is the 6th pack you bought (of course, providing it is his/her 1st or 2nd pack). The trigger is on ID, so each ID can get first 2 packs including land space, and the rest not.
From today, every player below 1500 strength will receive +20 strength daily from their training center. That means you will receive the amount of strength your Training upgrade level gives you, + additional points. After you gain over 1500 strength, you will once again receive only the amount of strength based on your TC level.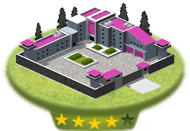 We hope that you like our new missions, and that you are having fun solving it. After some complaints, we once again have to remind you that the
missions last from 31.12.'18. to 01.02.'19
. and you have plenty of time to solve all of them. Before we made the missions, we saw players' "behavior" and we calculated how long you need to solve them and created it like that. We are sorry that some of you are not satisfied with them, but we believe that the missions are nice, and even more than that, that they are worth solving due to the rewards we are giving in them.
Regarding questions for resources shuffle, we will shuffle the map for sure, but keep in mind it's only Day 96 of the game. We won't change it so soon, bonuses are placed far from one other as much as we could, so you have to work hard to reach all bonuses. Our opinion is to make it as hard as we can so you can have more fun.
We had some questions about updates for factories, resources or naval battles. We definitely won't implement naval battles or equipment. Regarding the factories and Life kit building, we are not sure for now whether or not to place it in game, we had some other ideas on our mind. But make sure that we will announce it to you before we add any of it.
Feel free to share with us all your ideas or critics, any kind of opinion is welcome. If you'd like, think about events which you would like to see in the game and who knows, maybe you will see your ideas come to life.
For any questions, problems, suggestions, feedback, feel free to contact us via any of the official channels. You can use them also to inform yourself about news, maintenance schedule, updates and any other info regarding the game.
Support
Discord
Facebook
Twitter


That is it for now. Until some other time with more news, have fun and enjoy the game.
Best regards,
eRevollution Team 
Support
AeonFluX
omidmoradi
TripleKola
LordMarlock
raznov patrikak
kokikokov