Published in Spain

- Social interactions and entertainment - 4 years ago - 5
Paraguay (en guaraní, Paraguái), oficialmente República del Paraguay​ (en guaraní: Tetã Paraguái), es un país de América situado en la zona central de América del Sur. Su territorio está subdividido políticamente en 17 departamentos y un distrito capital. Su capital y ciudad más poblada es Asunción.

Limita con Argentina, Brasil y Bolivia. Su superficie es de 406.752 km2 y posee actualmente 8.000.000 de habitantes aproximadamente. Cuenta con dos idiomas oficiales, el español y el guaraní hablado por el 87% de la población.

Estos son algunos lugares emblemáticos.
Paraguay (in Guarani, Paraguái), officially Republic of Paraguay (in Guaraní: Tetã Paraguái), is an American country located in the central zone of South America. Its territory is politically subdivided into 17 departments and a capital district. Its capital and most populated city is Asunción.

It limits with Argentina, Brazil and Bolivia. Its surface area is 406,752 km2 and it currently has approximately 8,000,000 inhabitants. It has two official languages, Spanish and Guarani spoken by 87% of the population.

These are some emblematic places.
Palacio de López
Construído en 1867.el Palacio de López, también llamado usualmente Palacio de Gobierno o Palacio Presidencial, es la sede del gobierno de la República del Paraguay, debido a que ahí se encuentra el despacho oficial del presidente de la República. Es uno de los edificios más emblemáticos de la capital paraguaya, Asunción.
Built in 1867, the Palacio de López, also usually called the Government Palace or the Presidential Palace, is the seat of the Government of the Republic of Paraguay, because there is the official office of the President of the Republic. It is one of the most emblematic buildings of the Paraguayan capital, Asunción.
Vista aérea del Palacio de López y la bahía con la Costanera de Asunción/Aerial view of the Palacio de López and the bay with the Costanera de Asunción
Costanera de Asunción
Vista del nuevo polo comercial de Asunción, alejado del centro histórico. / View of the new commercial center of Asunción, away from the historic center.
Aerial view of the Palacio de López and the bay with the Costanera de Asunción
Lago Ypakarai

El lago Ypacaraí es un lago ubicado entre los departamentos Central y Cordillera de Paraguay. Distante a 48km de la capita, tiene una superficie de 144,8 Km2. Actualmente el otrora emblemático lago azul no está apto para su recreativo.
Lake Ypacaraí is a lake located between the Central and Cordillera departments of Paraguay. Distant at 48km from the capital, it has an area of ​​144.8 km2. Currently the once emblematic blue lake is not suitable for your recreational.
Encarnación
Encarnación es una ciudad paraguaya, capital del Departamento de Itapúa, ubicada en el sur del país, sobre la margen derecha del río Paraná en su límite con la República Argentina, a unos 370 km de la capital del país -Asunción-, conectada por la Ruta 1. Cuenta con aproximadamente 150.000 habitantes.
Actualmente es conocida como la capital del verano paraguayo y sus playas son muy visitadas por locales y extranjeros.
Encarnación is a Paraguayan city, capital of the Department of Itapúa, located in the south of the country, on the right bank of the Paraná River on its border with the Argentine Republic, about 370 km from the capital of the country -Asunción-, connected by the Route 1. It has approximately 150,000 inhabitants.
Currently it is known as the capital of the Paraguayan summer and its beaches are very visited by locals and foreigners.
Vista aérea de la ciudad. / Aerial view of the city.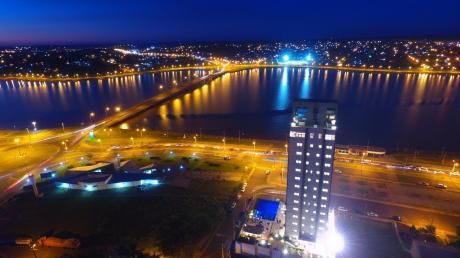 Costanera de la ciudad, al fondo la ciudad argentina de Posadas. / Costanera of the city, in the background the Argentine city of Posadas.
Playa San José, es la más concurrida, ruidosa y comercial de las playas encarnacenas. / Playa San José, is the busiest, noisiest and most commercial of the embracing beaches.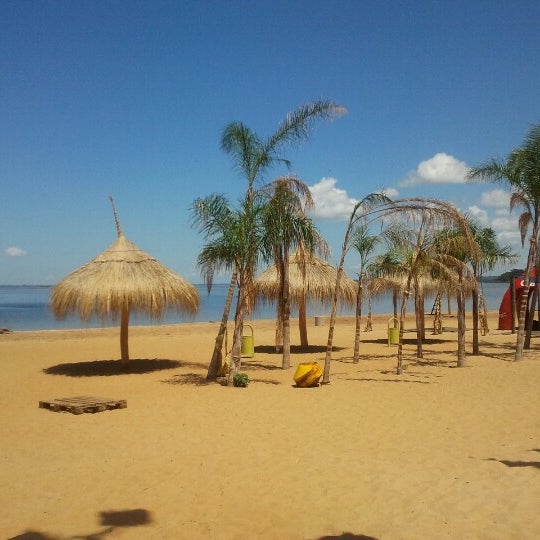 Playa Mboi Ka ê, mas familiera, es recomendada para los amantes de la tranquilidad. / Mboi Ka ê beach, more family, is recommended for lovers of tranquility.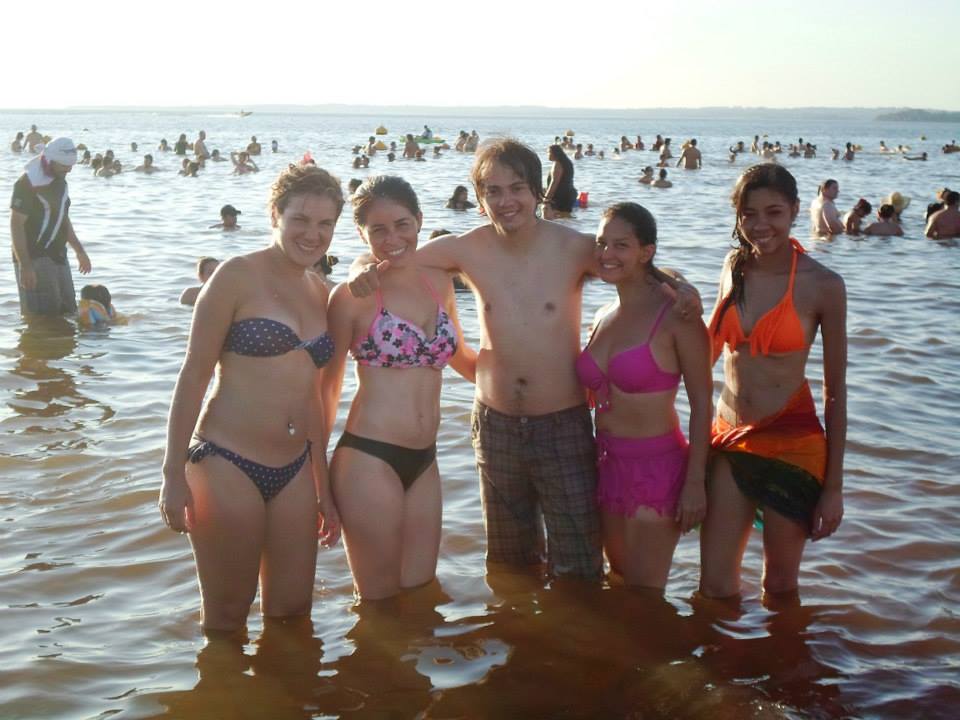 Puente San Roque González de Santa Cruz
El Puente Internacional San Roque González de Santa Cruz es un puente carretero y ferroviario erecto sobre el río Paraná, que comunica a la ciudad de Posadas, Provincia de Misiones, Argentina con la ciudad de Encarnación, Departamento de Itapúa, Paraguay. Tiene una longitud total de 2.550 metros.
The San Roque González de Santa Cruz International Bridge is an erect railway and road bridge over the Paraná River, which connects the city of Posadas, Province of Misiones, Argentina with the city of Encarnación, Department of Itapúa, Paraguay. It has a total length of 2,550 meters.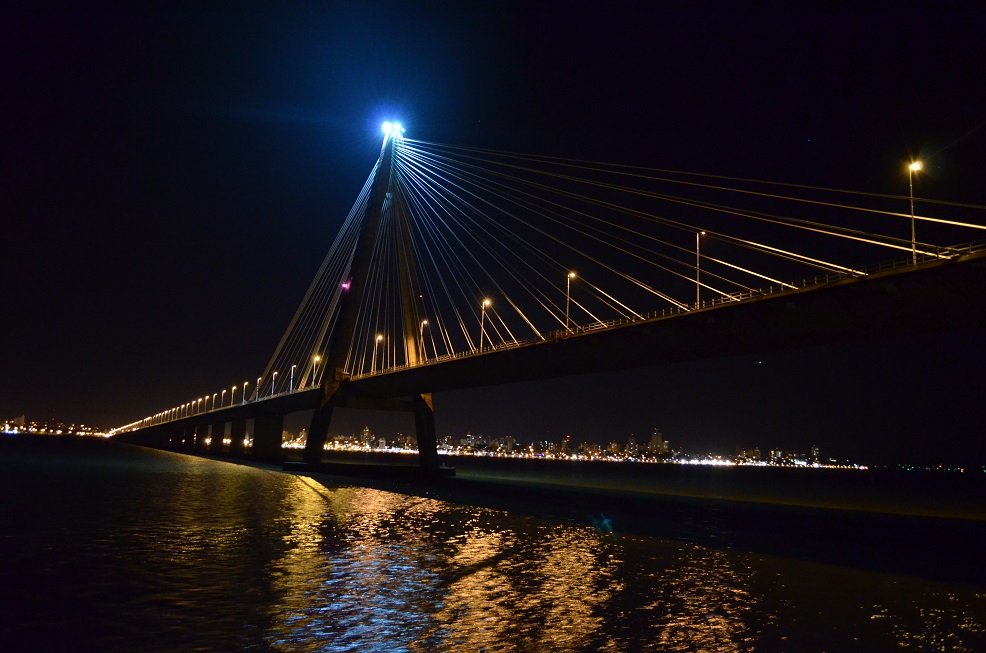 Carnaval Encarnaceno
El Carnaval Encarnaceno es la mayor fiesta de interés pública a nivel país realizada en la ciudad de Encarnación, y la mayor fiesta de carnaval del país.
Carnival Encarnaceno is the largest public interest party at a country level held in the city of Encarnación, and the largest carnival party in the country.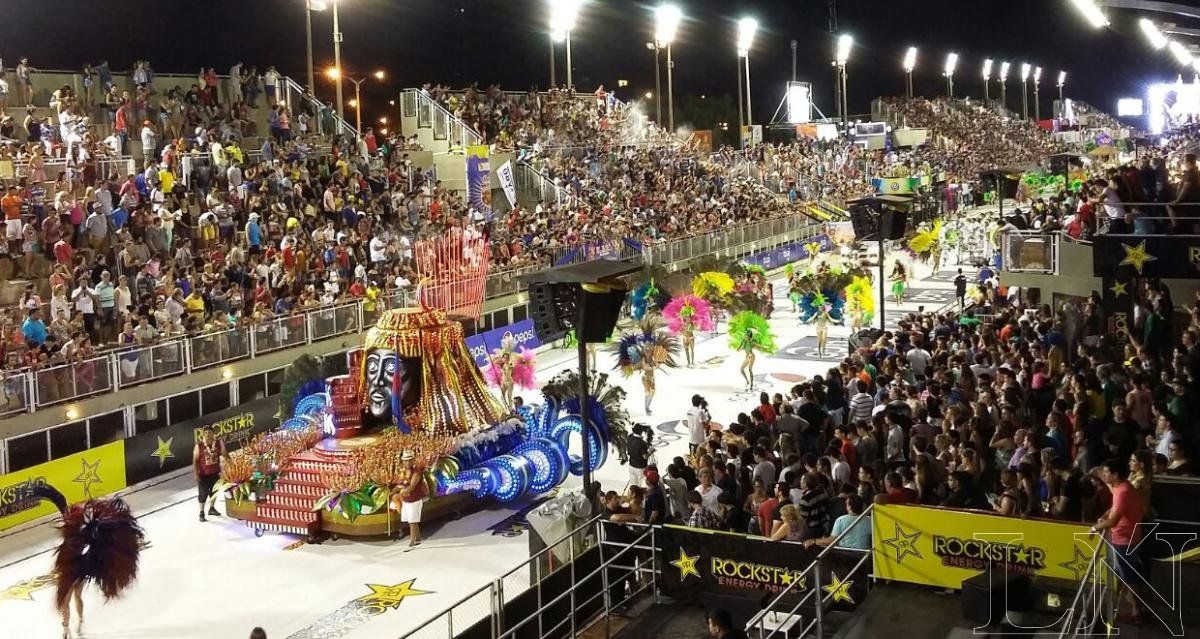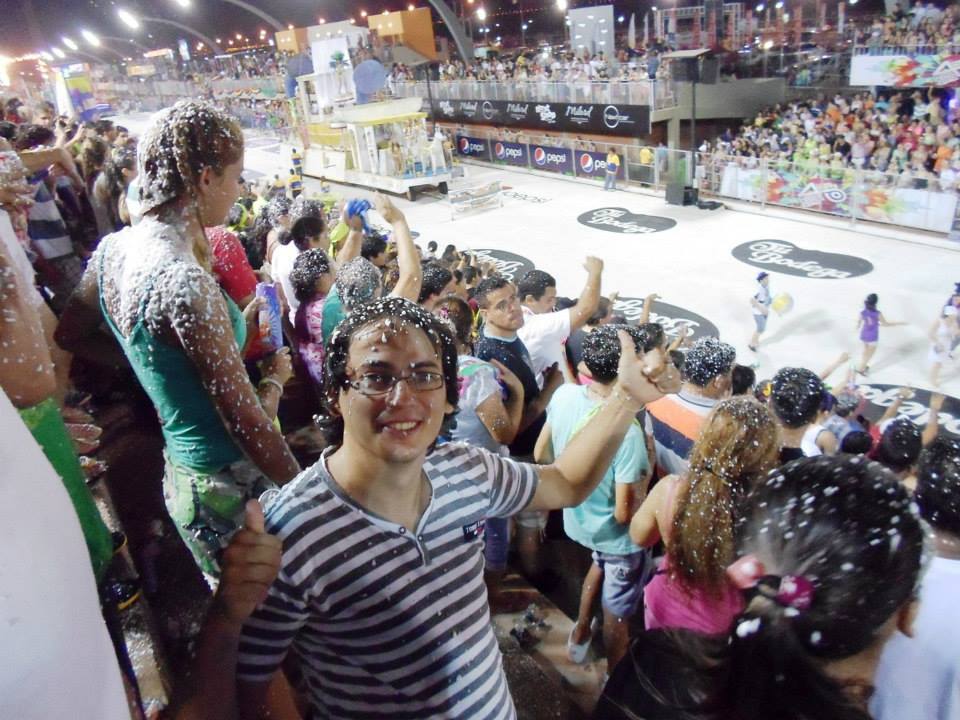 Encarnación aun tiene mucho para mostrar pero vamos hacerla corta . :D
Salto del Monday
El Salto del Río Monday: ubicado en el distrito de Presidente Franco, departamento de Alto Paraná, ocupa una superficie de nueve hectáreas.
The Salto del Río Monday: located in the district of Presidente Franco, department of Alto Paraná, occupies an area of ​​nine hectares.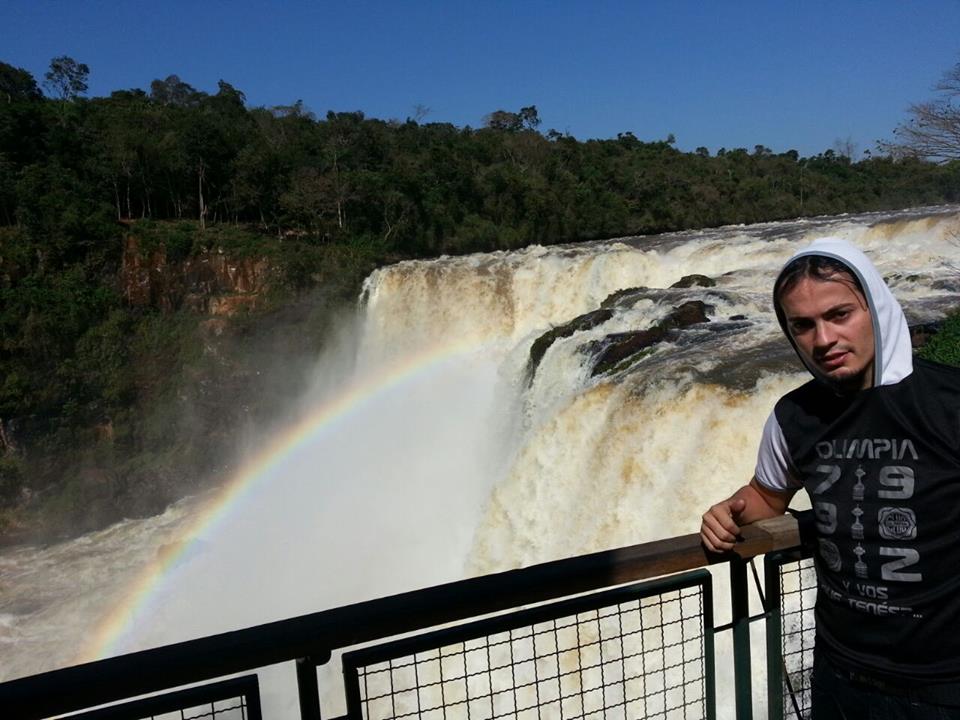 Túnel Verde de Santa Rita
En un trayecto de 400 metros aproximadamente, ya saliendo del casco urbano de la ciudad con dirección a Encarnación, dos franjas de árboles del género leucadena se agazapan desde ambos lados de la ruta y forman una hermosa y gratificante especie de túnel, totalmente verde.
In a distance of approximately 400 meters, already leaving the urban area of ​​the city towards Encarnación, two strips of trees of the leucadena genus are agazapan from both sides of the route and form a beautiful and rewarding kind of tunnel, totally green.
Rancho Laguna Blanca
La Laguna Blanca es un espejo de agua de 147 hectáreas aproximadamente. Es considerado por los especialistas como el único lago natural del país, pues posee estratificación térmica, una profundidad de más de 7 metros y surgentes propia. Sus aguas son cristalinas y las playas de arena blanca.
The Laguna Blanca is a mirror of water of approximately 147 hectares. It is considered by specialists as the only natural lake in the country, as it has thermal stratification, a depth of more than 7 meters and its own springs. Its waters are crystal clear and the beaches of white sand.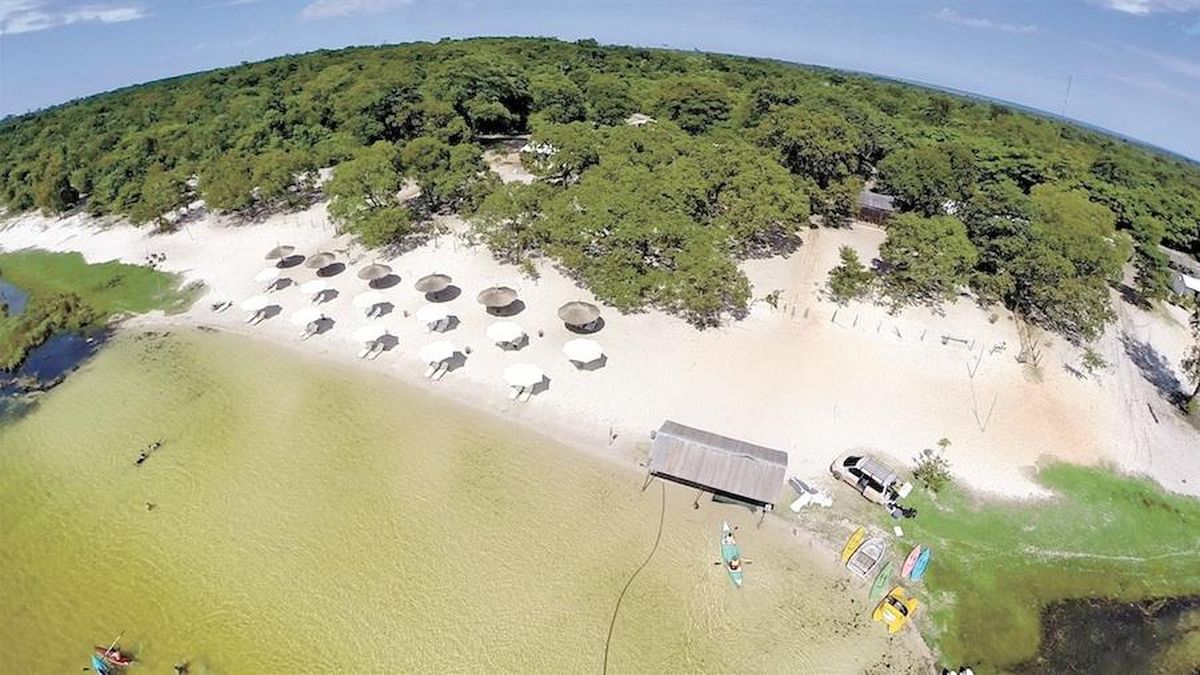 Cerro Tres Kandú
El Cerro Tres Kandú o Cerro Peró es el punto más alto del territorio de Paraguay, con 842 m s. n. m.​ Se encuentra ubicado en el Departamento de Guairá, en la frontera misma con el Departamento de Caazapá.
Cerro Tres Kandú or Cerro Peró is the highest point of the territory of Paraguay, with 842 ms s. n. It is located in the Department of Guairá, on the border with the Department of Caazapá.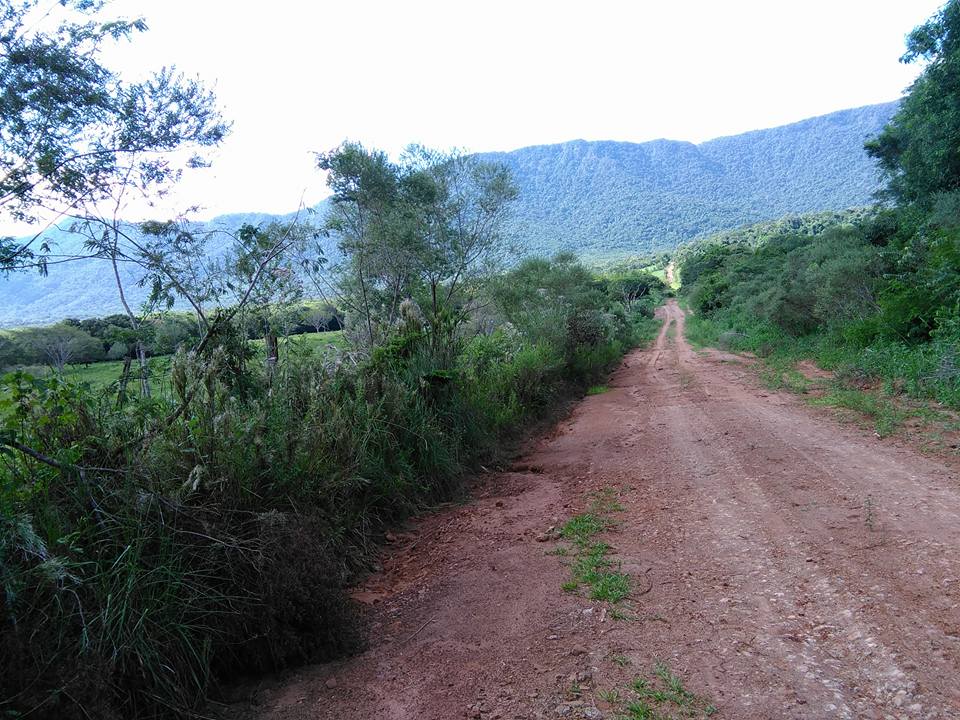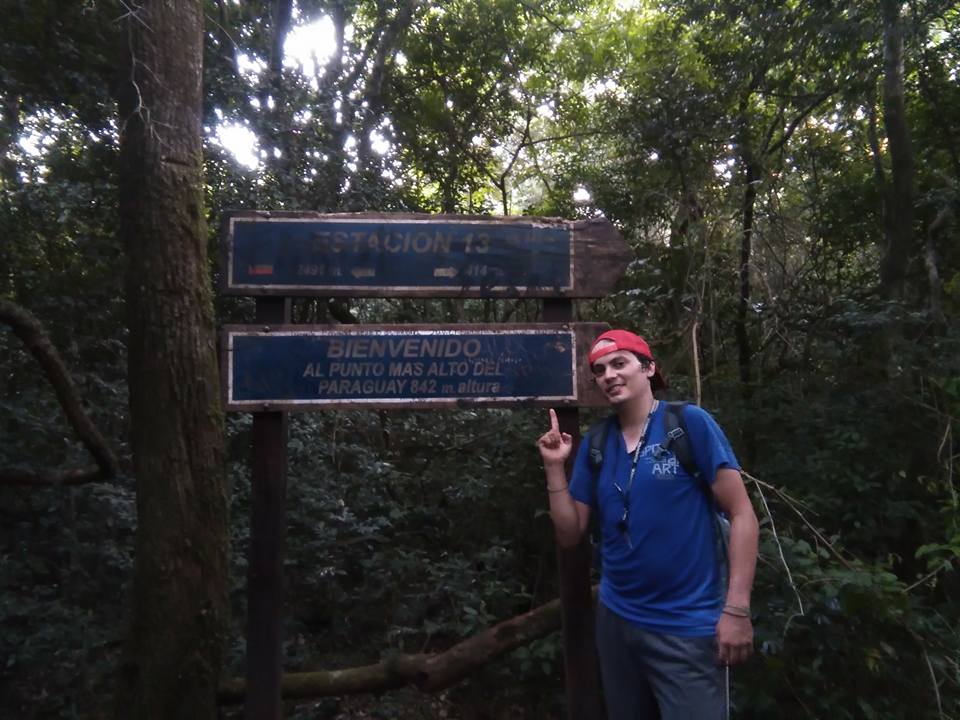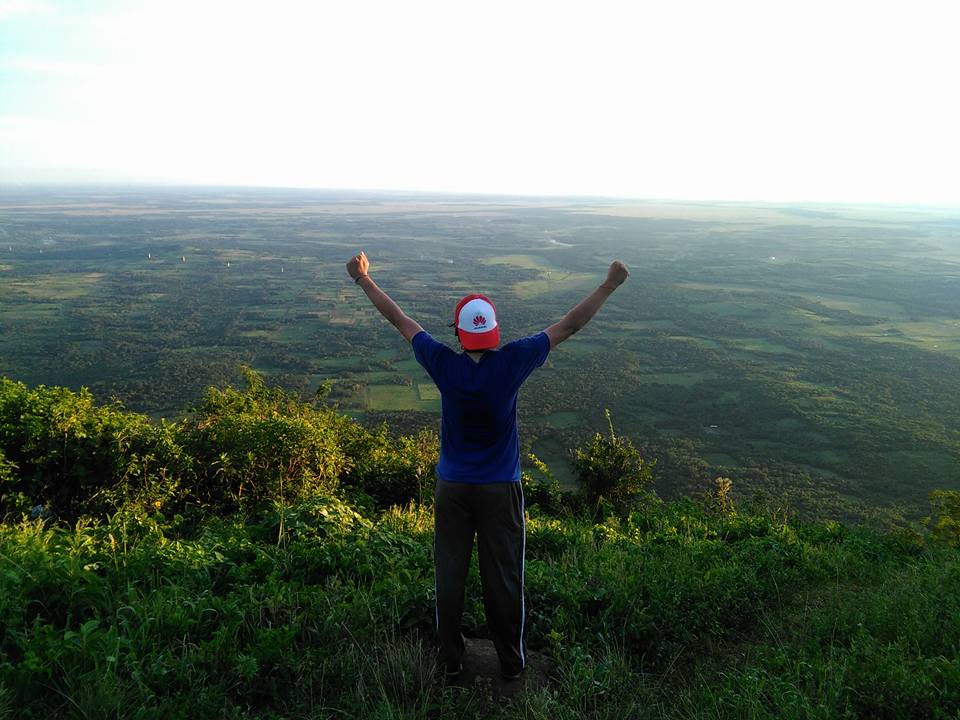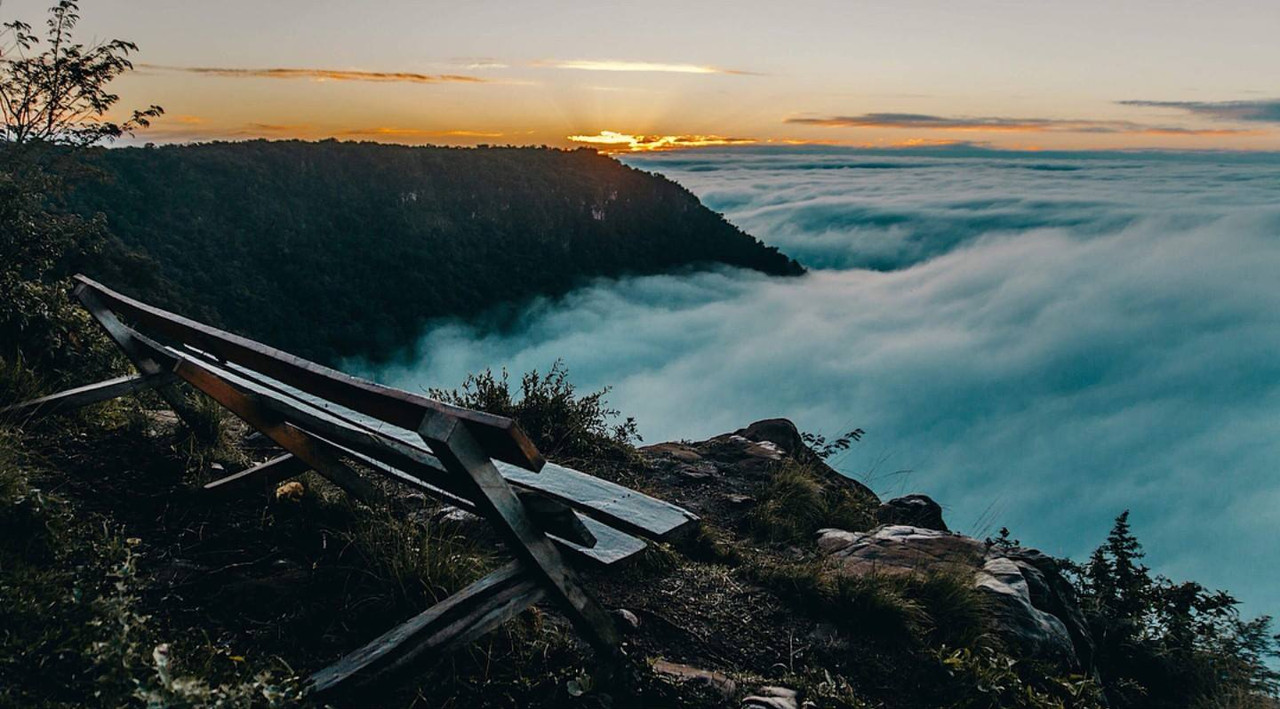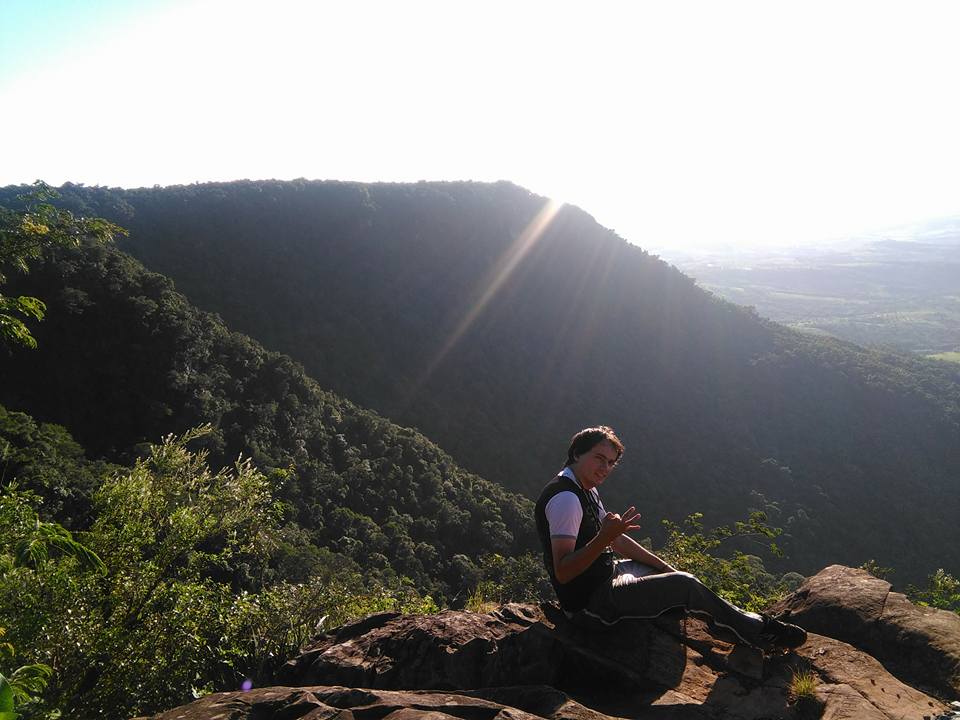 Cavernas de Vallemí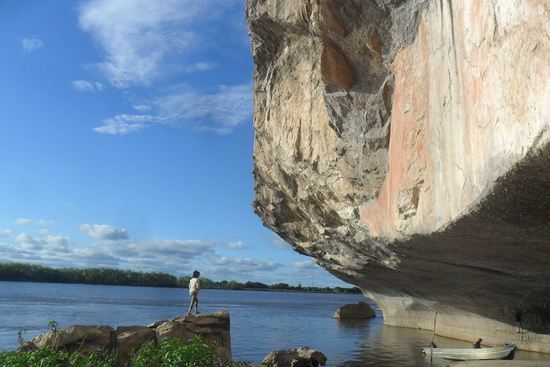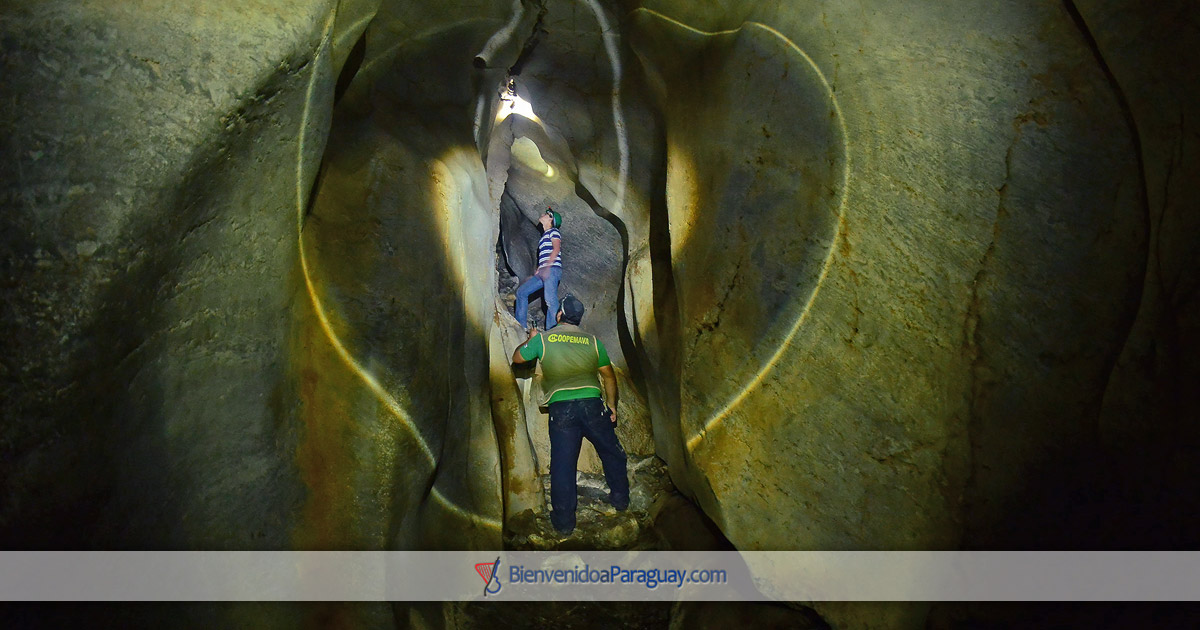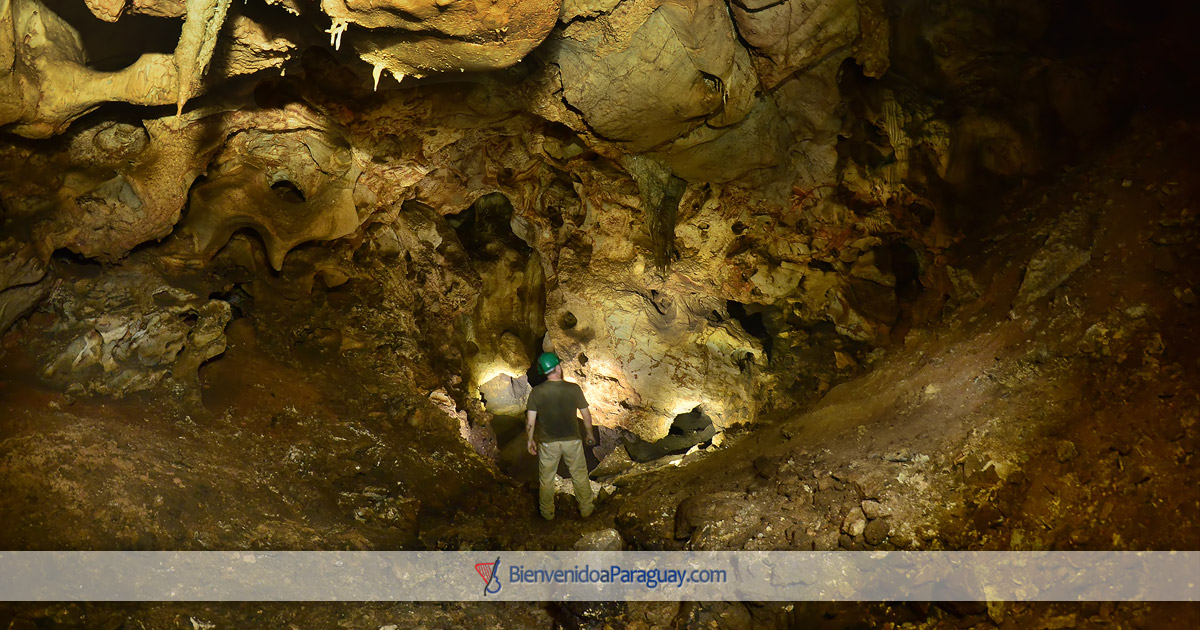 Dunas de San Cosme y Damián
Una verdadera travesía es el viaje hasta las famosas dunas de San Cosme y Damián. Estas montañas de arena, de más de 30 m de altura, son el remanente del monte Ybycuí, ubicado en el centro mismo del lago Yacyretá, formado por las aguas del río Paraná. Es posible llegar a ellas a bordo de una lancha dando un paseo de una hora de duración, como promedio.
A true journey is the trip to the famous dunes of San Cosme and Damián. These mountains of sand, more than 30 m high, are the remnant of Mount Ybycuí, located in the very center of Lake Yacyretá, formed by the waters of the Paraná River. It is possible to get to them on board a boat by taking an hour-long ride, on average.
El Pantanal Paraguayo
El Pantanal Paraguayo en Fuerte Olimpo: el mayor sistema de humedales del mundo, que comprende también parte de Brasil y Bolivia. Anualmente las aguas suben varios metros, inundando un extenso territorio, y luego retroceden, creando un escenario natural de gran belleza, refugio de aves, peces, anfibios, reptiles y mamíferos.
The Paraguayan Pantanal in Fuerte Olimpo: the largest wetland system in the world, which also includes part of Brazil and Bolivia. Annually the waters rise several meters, flooding an extensive territory, and then back down, creating a natural scenery of great beauty, shelter of birds, fish, amphibians, reptiles and mammals.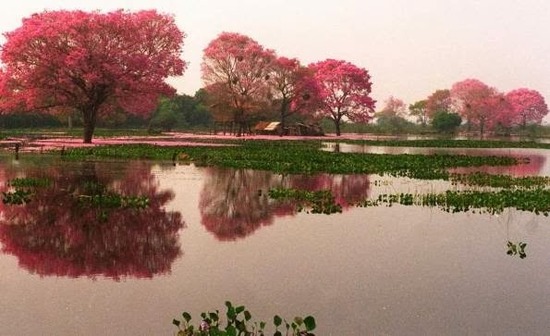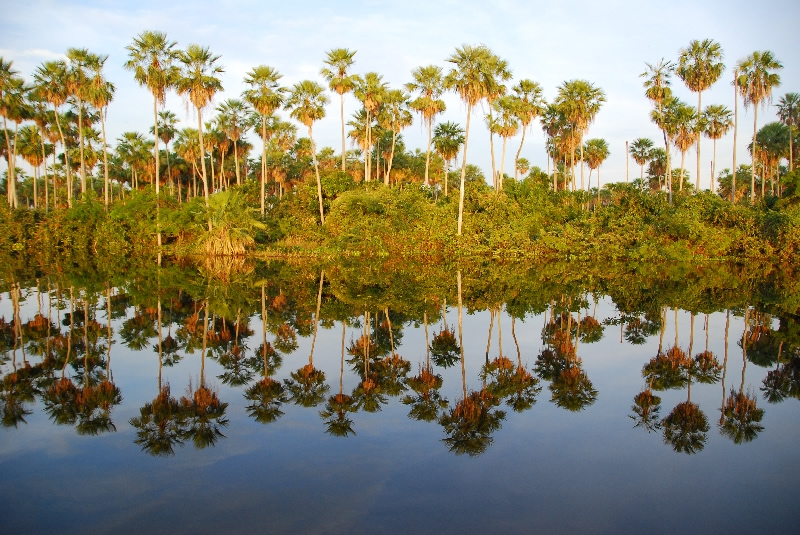 Arroyo Tagatiyá
El arroyo Tagatiyá nace en la serranía San Luis, al norte del Departamento de Concepción, cruza por el distrito de San Alfredo y desemboca en el río Paraguay. En su recorrido se nutre de cursos de agua que tienen nacientes en los bosques de la zona.
Atraviesa terrenos calcáreos casi en su totalidad, lo cual hace que sean aguas carbonatadas (ph alcalino). Los carbonatos tienen la propiedad de flocular partículas en suspensión (por calcificación) en el agua y posterior decantación, entonces la transparenta.
Este curso hídrico presenta dos brazos principales: El Tagatiyá Guazú y el Tagatiyá mí, que confluencian y luego desemboca en un único canal al río Paraguay.
The Tagatiyá stream rises in the San Luis mountain range, north of the Concepción Department, crosses through the district of San Alfredo and flows into the Paraguay River. In its route it feeds on water courses that have springs in the forests of the area.
It crosses calcareous grounds almost in its totality, which causes that they are carbonated water (ph alkaline). The carbonates have the property of flocculating particles in suspension (by calcification) in the water and subsequent decantation, then the transparent.

This water course has two main branches: the Tagatiyá Guazú and the Tagatiyá me, which merge and then flow into a single channel to the Paraguay River.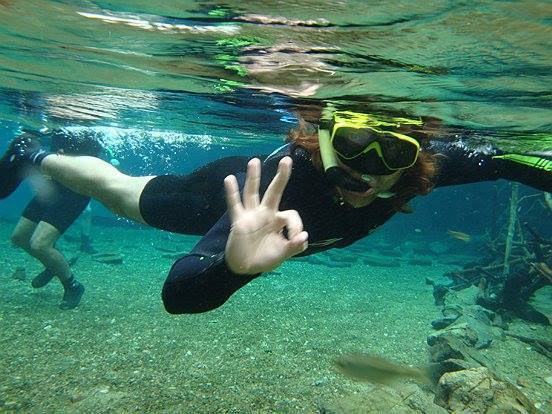 Ojo de Mar
Ojo de Mar es el nombre que le dieron a este lugar misterioso de Paraguay que se hizo famoso en la última década. Geológicamente podría tratarse de un cenote o bien algún tipo de lago con afluentes subterráneos. Es un lago calcáreo ubicado a 50 km al oeste de la ciudad de Bella Vista, próximo al limite con el departamento de Concepción, escondido en medio de la selva paraguaya.
Se desconoce la profundidad de este lago natural con agua cristalina pero de coloración medio verdosa. Ya lanzaron al lago más de 100 metros de lazos sin lograr alcanzar el fondo, tiene un caudal permanente en cualquier época del año.
Ojo de Mar is the name given to this mysterious place in Paraguay that became famous in the last decade. Geologically it could be a cenote or some type of lake with underground tributaries. It is a calcareous lake located 50 km west of the city of Bella Vista, near the border with the Department of Concepción, hidden in the middle of the Paraguayan jungle.
The depth of this natural lake is unknown with crystalline water but with a medium greenish color. Already launched more than 100 meters of ties to the lake without reaching the bottom, has a permanent flow at any time of the year.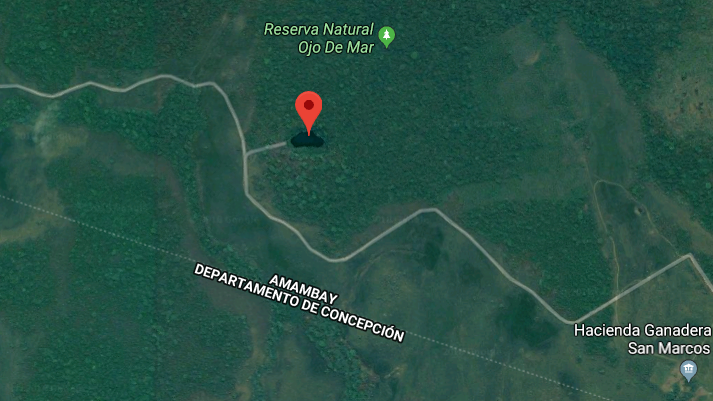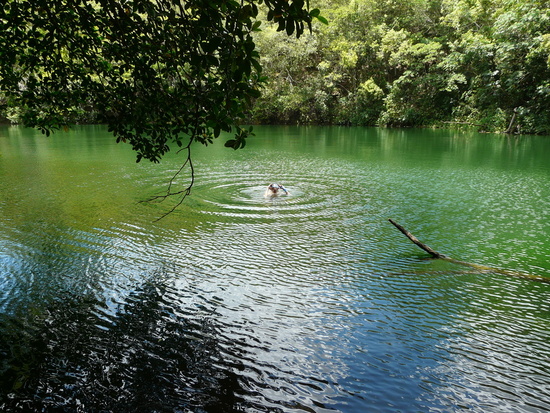 Laguna Salada de Campo María
La reserva natural Campo María, ubicada en el distrito de Tte. Irala Fernández, Pdte. Hayes, Chaco paraguayo es un refugio para la fauna silvestre y oasis para las personas que aprecian el disfrute de la naturaleza. Es parte de un humedal del riacho Yacaré Sur, donde se puede encontrar gran cantidad de aves, entre ellos flamencos, que vienen transitoriamente hasta el Chaco para escapar del frío en Chile.
The Campo María nature reserve, located in the district of Tte. Irala Fernández, Pdte. Hayes, Paraguayan Chaco is a refuge for wildlife and oasis for people who appreciate the enjoyment of nature. It is part of a wetland of the Yacaré Sur stream, where you can find a large number of birds, among them flamingos, who come transiently to the Chaco to escape the cold in Chile.
Represa de Itaipú
La represa hidroeléctrica de Itaipú (del guaraní, piedra que suena ) es una represa binacional de Paraguay y Brasil, en su frontera sobre el río Paraná. Posee un desnivel de 120 m de caída bruta.
Itaipu Binacional ostenta el título de mayor productora de energía del planeta con 103.098.366 MWh producidos en el 2016.2​3​. También es la represa de mayor producción acumulada, con 2,5 mil millones de MWh4​5​6​7​8​ desde el inicio de la operación. La represa de Itaipú tiene una potencia de generación electrohidráulica instalada de 14 000 MW, con 20 turbinas generadoras de 700 MW y su construcción demandó un costo de 36 mil millones de dólares para los dos países socios.
The Itaipú hydroelectric dam (del guaraní, piedra que suena) is a binational dam of Paraguay and Brazil, on its border on the Paraná river. It has a vertical drop of 120 m.

Itaipu Binacional holds the title of largest energy producer on the planet with 103,098,366 MWh produced in 2016.2 3. It is also the dam with the highest cumulative production, with 2.5 billion MWh4 5 6 7 8 since the beginning of the operation. The Itaipu dam has an installed electrohydraulic generation capacity of 14,000 MW, with 20 generating turbines of 700 MW and its construction demanded a cost of 36 billion dollars for the two partner countries.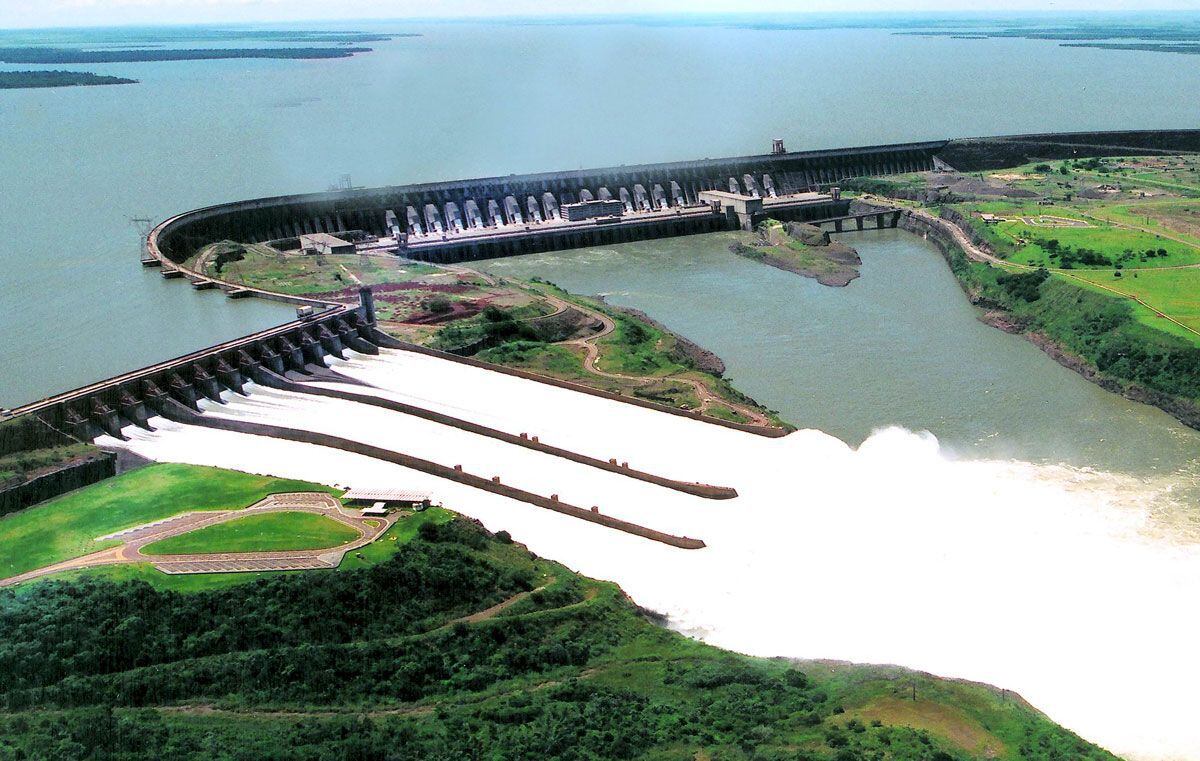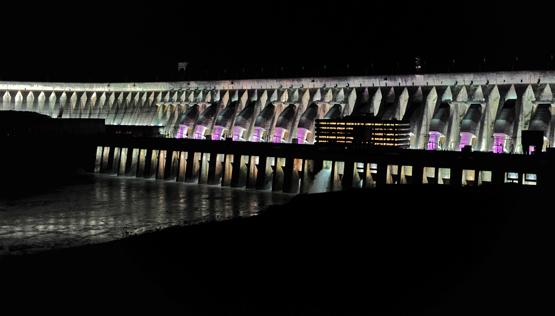 Ruinas Jesuiticas
Las misiones jesuíticas guaraníes o reducciones jesuíticas guaraníes fueron un conjunto de treinta pueblos misioneros fundados a partir del siglo XVII por la orden religiosa católica de la Compañía de Jesús entre los aborígenes guaraníes y pueblos a fines, que tenían como fin su evangelización y que se ubicaron geográficamente -quince- en las actuales provincias de Misiones y Corrientes, en Argentina, -ocho- en el Paraguay y -las siete restantes- en las denominadas Misiones Orientales, situadas al suroeste del Brasil; todas en la jurisdicción llamada Provincia Paraguaria1​ situada en Virreinato del Perú y que abarcaba regiones de los actuales Paraguay, Argentina, Uruguay y partes de Bolivia, Brasil y Chile.2
Existen en varias ciudades del Paraguay.
The Guarani Jesuit Missions or Guarani Jesuit Reductions were a set of thirty missionary towns founded from the 17th century onwards by the Catholic religious order of the Society of Jesus among the Guarani aborigines and people at the end, whose goal was evangelization and which were located geographically -quince- in the current provinces of Misiones and Corrientes, in Argentina, -ocho- in Paraguay and -the remaining seven- in the so-called Eastern Missions, located southwest of Brazil; all in the jurisdiction called Provincia Paraguaria1 located in the Viceroyalty of Peru and which encompassed regions of present-day Paraguay, Argentina, Uruguay and parts of Bolivia, Brazil and Chile.2

They exist in several cities of Paraguay.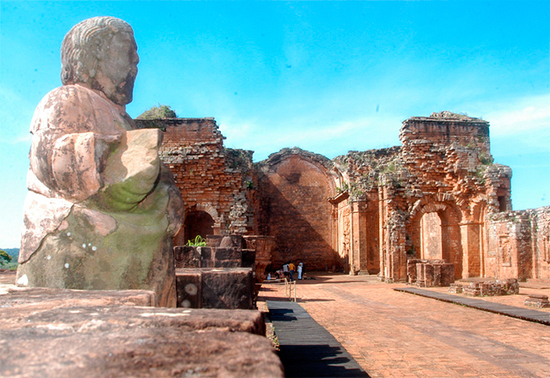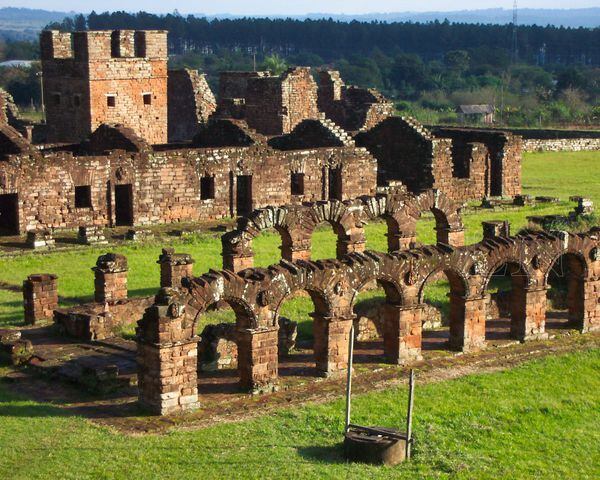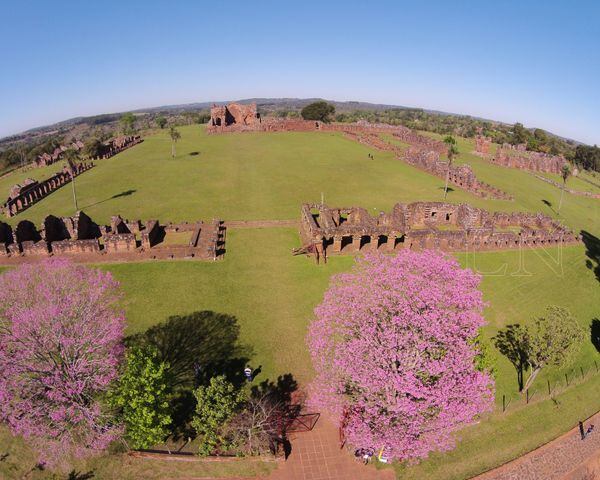 Cerrito - Ñeembucú
Cerrito es una ciudad del Departamento de Ñeembucú, ubicada a 100 km de la ciudad de Pilar, sobre la margen derecha del río Paraná, frente a Yahapé, Argentina
Cerrito is a city in the Department of Ñeembucú, located 100 km from the city of Pilar, on the right bank of the Paraná River, in front of Yahapé, Argentina
Isla Pombero
La Isla Pombero es una de las maravillas que ofrece Cerrito, junto con la Isla Martín García. El archipiélago de Cerrito es un conjunto de islas siendo pocas de ellas las más aptas para disfrutar de sus playas, debido a sus grandes bancos de arena, su vegetación exuberante que invita a la buena sombra en días calurosos, y sobre todo por las aguas transparentes del Río Paraná.
The Pombero Island is one of the wonders offered by Cerrito, together with the Martín García Island. The archipelago of Cerrito is a group of islands, few of which are the most suitable for enjoying its beaches, due to its large sandbanks, its exuberant vegetation that invites good shade on hot days, and above all transparent waters. of the Paraná River.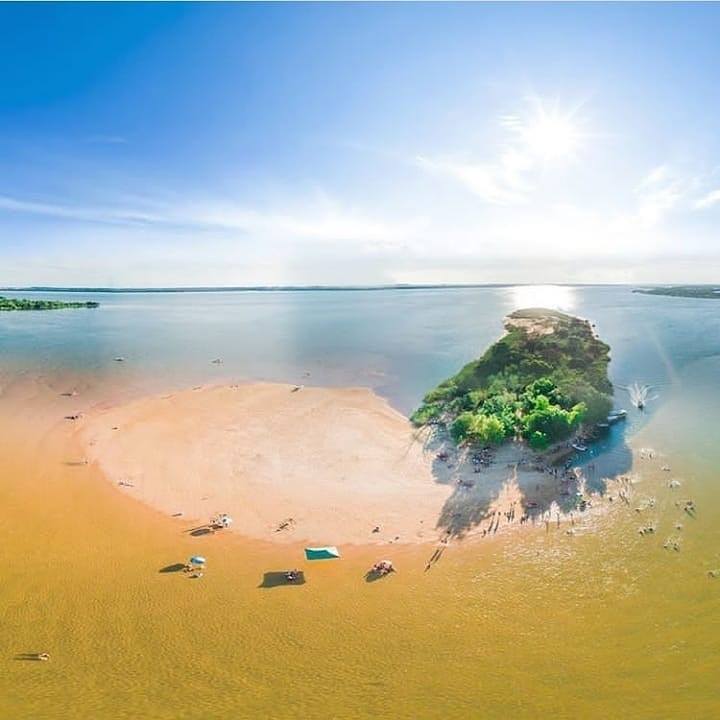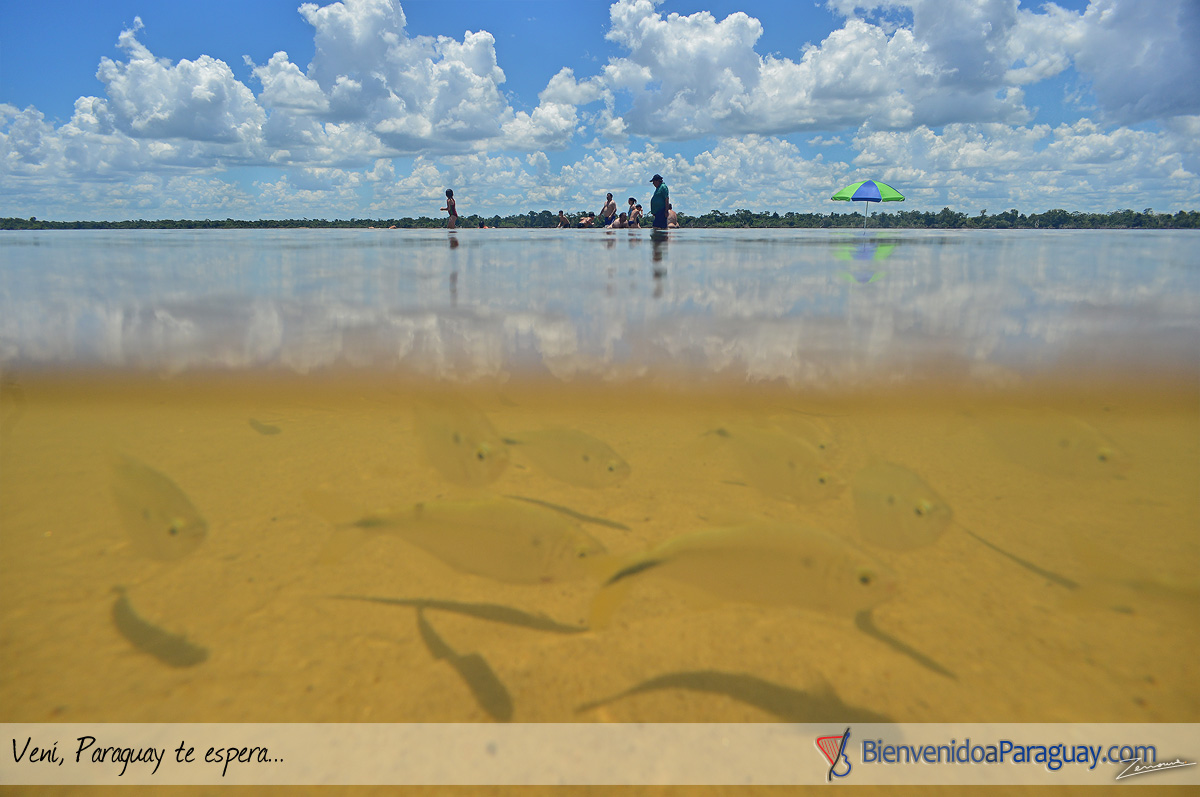 Salto Cristal
El Salto Cristal, ubicado en el Departamento de Paraguarí, es un lugar perfecto para los amantes de la naturaleza que realizan ecoaventura. Los deportes extremos que se realizan en el lugar son: rapel, snorkel, arroyaje y escalada. El Salto enamora a sus visitantes con sus 45 metros de caida de agua.
The Salto Cristal, located in the Department of Paraguarí, is a perfect place for nature lovers who do eco-adventure. The extreme sports that are carried out in the place are: abseiling, snorkeling, arroyaje and climbing. El Salto enamors its visitors with its 45 meters of water fall.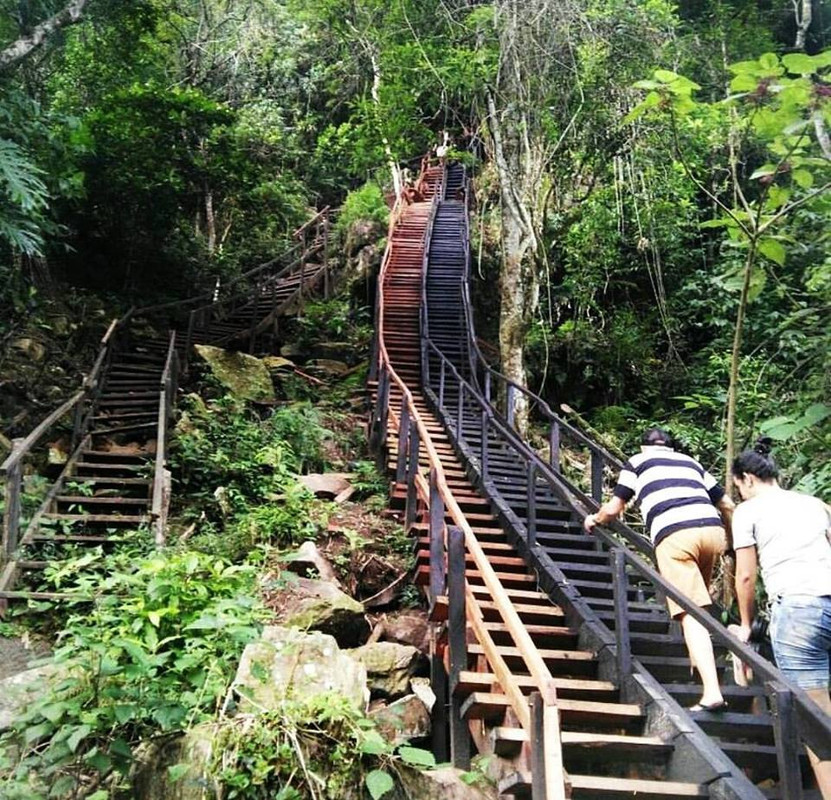 🏞Escaleras que llevan al paraiso del Salto Cristal! 💎🌿🌊🆙
Cerro Corá
En la zona conocida como Cerro Corá se encuentra la Granja Francisca, de 120 hectáreas inmersas en la gigantesca Cordillera del Yvytyruzú, y sus propietarios levantaron lo que hoy es un pequeño paraíso en medio de otro más grande como se puede apreciar en el lugar. Granja rural
In the area known as Cerro Corá there is the Francisca Farm, with 120 hectares immersed in the gigantic Yvytyruzú Mountain Range, and its owners built what is now a small paradise in the middle of another larger one, as can be seen in the place. Rural farm
Itá Letra
Ita Letra: A 22 kilómetros de Villarrica, en pleno corazón de la Cordillera de Ybytyruzu, palpita un misterio. En medio de un bello e imponente paisaje de verdes serranías, una maciza pared mineral guarda antiguas y extrañas inscripciones en la roca (petroglifos), cuyo verdadero origen se pierde en la noche de los tiempos.
El peñasco, conocido popularmente como Itá Letra (Piedra con letra), se encuentra en la compañía Tororo. Anteriormente se creía que demostraban la presencia de Vikingos en el Paraguay pero fue recientemente rechazada la hipótesis afirmando que se trata de inscripciones hechas por nativos.
Ita Letra: 22 kilometers from Villarrica, in the heart of the Ybytyruzu mountain range, a mystery beats. In the middle of a beautiful and imposing landscape of green hills, a massive mineral wall keeps ancient and strange in ions in the rock (petroglyphs), whose true origin is lost in the mists of time.

The crag, popularly known as Itá Letra (Piedra con letra), is in the company Tororo. Previously it was believed that they demonstrated the presence of Vikings in Paraguay but the hypothesis was recently rejected stating that these are in ions made by natives.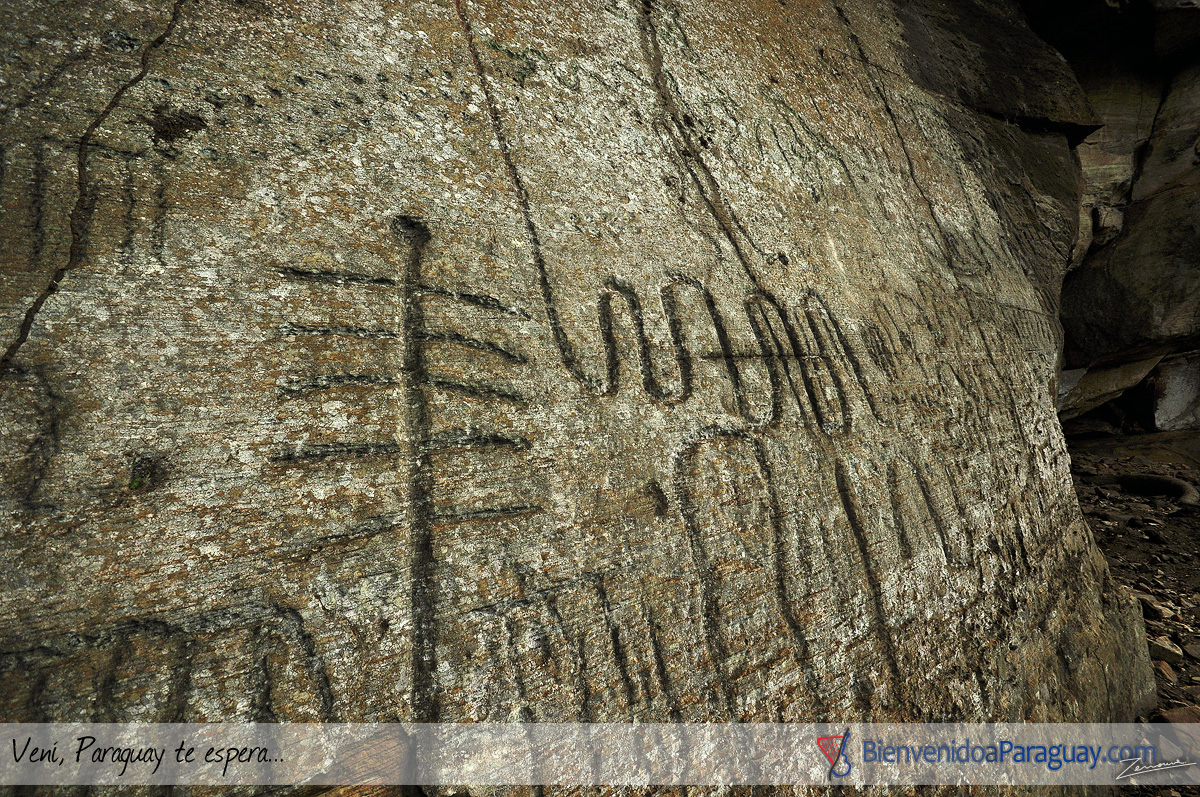 Cabañas Itakua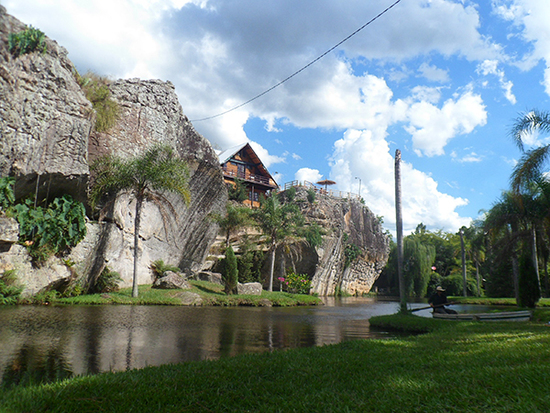 Salto de Ruta
Sobre la ruta que unen las localidades de Piribebuy y Paraguari en medio de verdes cerros se ubica este pintoresco salto de agua.
On the route that connects the towns of Piribebuy and Paraguari in the middle of green hills, this picturesque waterfall is located.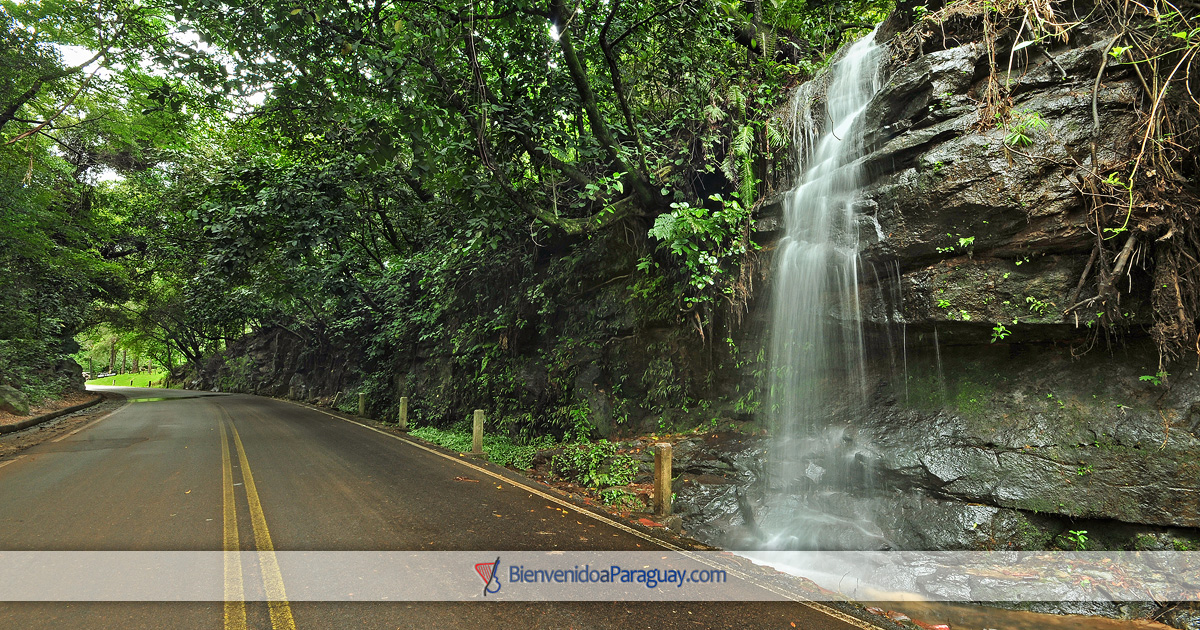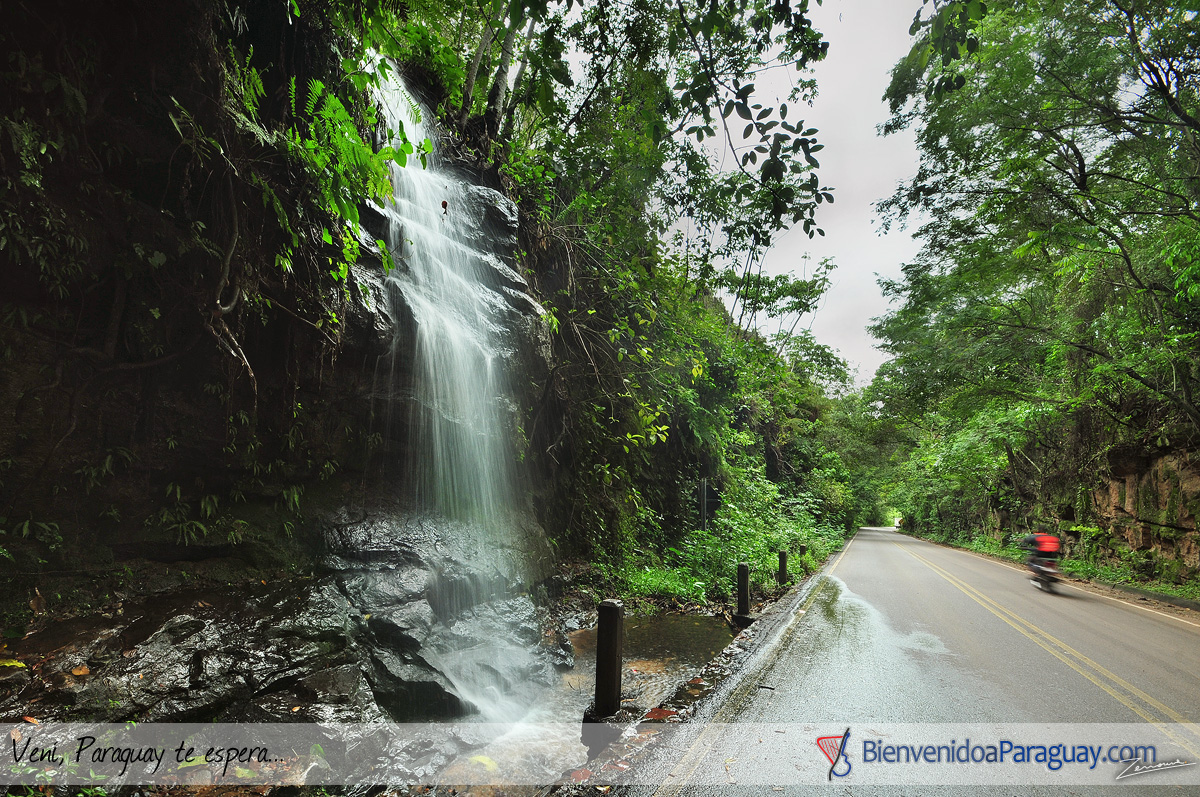 Cerro León - Parque Nacional Defensores del Chaco
El cerro León o macizo cerro León es una zona de colinas en el departamento de Alto Paraguay en la zona noroeste de Paraguay, la zona montañosa abarca unos 52 km de diámetro, y se eleva hasta 624 m snm. El cerro León se encuentra en la zona central del parque nacional Defensores del Chaco.​​
The Cerro León or Cerro León massif is a hilly area in the department of Alto Paraguay in the northwestern area of ​​Paraguay, the mountainous area covers about 52 km in diameter, and rises up to 624 m asl. Cerro León is located in the central area of ​​the Defensores del Chaco National Park.
Cerros Koi y Chorori
El Cerro Kõi es un montículo situado en el noreste del Departamento Central de la República del Paraguay en la jurisdicción del municipio de Areguá. Esta cumbre pertenece al grupo de cerros de la Cordillera de Ybytypanemá.
Los cerros Koi y Chorori albergan una formación casi única en el mundo, está constituida por rocas que se denominan pseudotraquitas. La rara forma de las piedras de ambos cerros, de figura poligonal y procedencia sedimentaria, es muy llamativa. Solo se conoce este tipo de formación en tres países: Canadá, Sudáfrica y Paraguay, siendo por lo tanto una formación única en América del Sur.
Desde alli pueden verse las localidades aledañas, asi como el cerro Patiño y el lago Ypakarai
Cerro Kõi is a mound located in the northeast of the Central Department of the Republic of Paraguay in the jurisdiction of the municipality of Areguá. This summit belongs to the group of hills of the Cordillera de Ybytypanemá.

The hills Koi and Chorori house an almost unique formation in the world, is constituted by rocks that are called pseudotraquitas. The rare shape of the stones of both hills, of polygonal shape and sedimentary origin, is very striking. Only this type of training is known in three countries: Canada, South Africa and Paraguay, being therefore a unique formation in South America.

From there you can see the surrounding towns, as well as Cerro Patiño and Lake Ypakarai
Saltos del Ñacunday
Salto de aproximadamente 40 metros de altura y 70 metros de ancho en rocas del tipo basalto toleítico del Cretácico Inferior . Es el salto más importante del país, luego de la desaparición de los Saltos del Guairá. Se encuentra en el Departamento de Alto Paraná,a unos 70 Km de Ciudad del Este, en las cercanías de la desembocadura del río al del río Paraná, enclavada en el Parque Nacional Ñacunday.
Jump of approximately 40 meters high and 70 meters wide in rocks of the basaltic type of the Late Cretaceous. It is the most important jump in the country, after the disappearance of the Saltos del Guairá. It is located in the Department of Alto Paraná, about 70 km from Ciudad del Este, in the vicinity of the mouth of the river to the Paraná River, located in the Ñacunday National Park.
Ciudad del Este
Ciudad del Este es una ciudad localizada al este de la Región Oriental de la República del Paraguay. Es la capital del departamento de Alto Paraná y está situada a 327 km de la capital del país -Asunción-, conectada por la Ruta 7. Está también conectada con el Brasil a través del Puente Internacional de la Amistad sobre el río Paraná.
La capital del décimo departamento es la tercera mayor zona de libre comercio del mundo, después de Miami (Estados Unidos) y Hong Kong (China).
Ciudad del Este is a city located east of the Eastern Region of the Republic of Paraguay. It is the capital of the department of Alto Paraná and is located 327 km from the capital of the country -Asunción-, connected by Route 7. It is also connected to Brazil through the International Bridge of Friendship on the Paraná River.
The capital of the tenth department is the third largest free trade zone in the world, after Miami (United States) and Hong Kong (China).
Vista del Puente de la Amistad que unen a Ciudad del Este , Paraguay con Foz de Iguazu, Brasil / View of the Friendship Bridge that connect Ciudad del Este, Paraguay with Foz de Iguazu, Brazil
Ostias tios, me he cansado... si olvidé algo luego lo agrego.
Support
count zero