Published in Portugal

- First steps in eRevollution - 1 year ago - 3
ENGLISH VERSION BELLOW


Olá a todos. Este artigo é direcionado para os novos jogadores, por isso se és um iniciante, recomendo-te a ler tudo!

Neste jogo não é preciso fazer muitas coisas no dia a dia. As tarefas limitam-se a:

. Trabalhar
. Treinar
. Lutar

Parece fácil certo? Vamos ao tutorial!

1º - Trabalhar

Para trabalhar carreguem no botão Companies que se encontra no retângulo vermelho.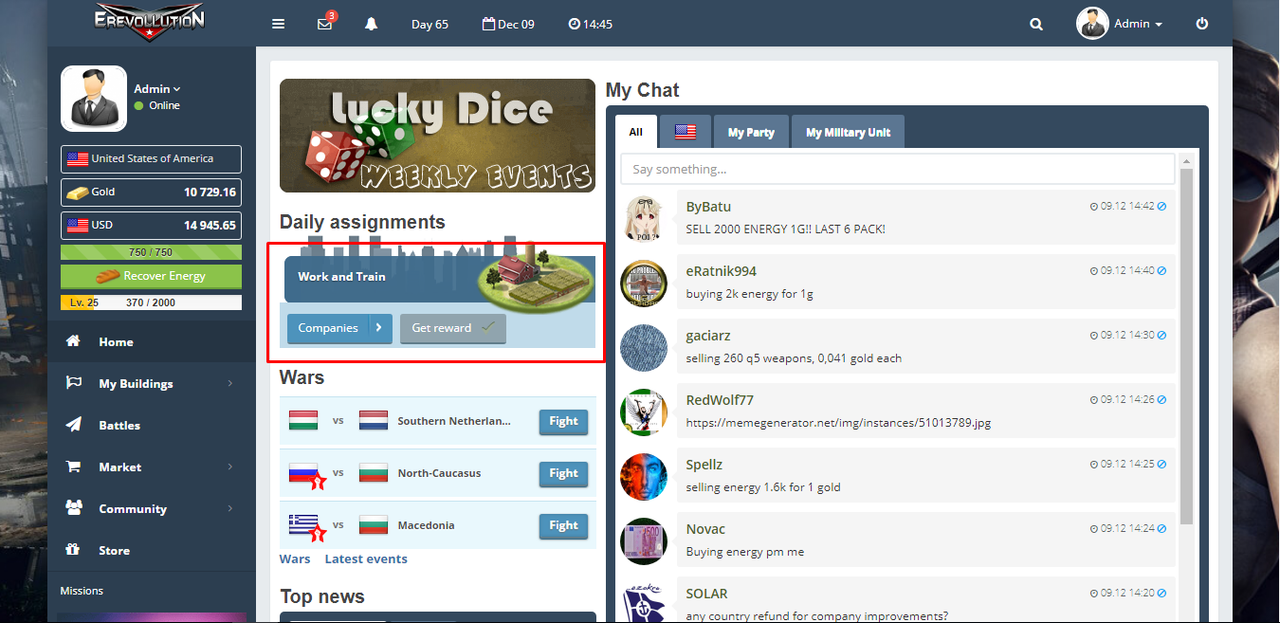 De seguida, a seguinte página vai aparecer-vos.
Para arranjarem emprego, carreguem em Get a job.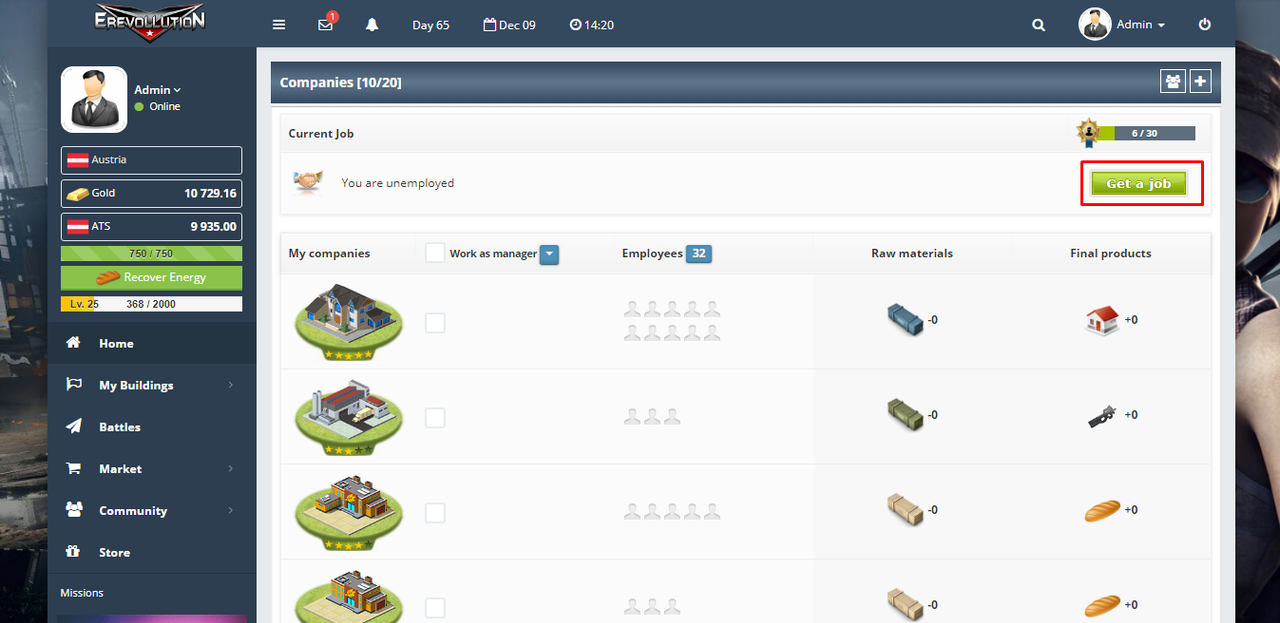 Assim que carregarem, várias ofertas no mercado vão aparecer.
!Escolham a oferta que está no topo, pois é esta que oferece um salário maior!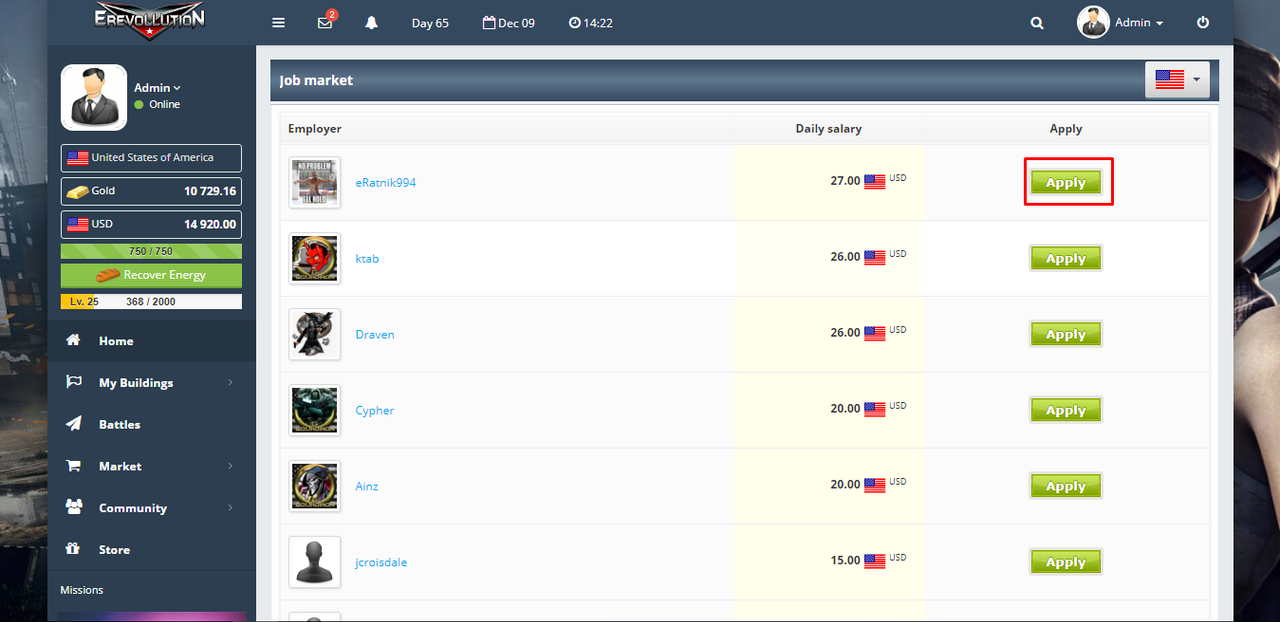 Para trabalharem, carreguem em Work.

E assim completaram uma das três tarefas diárias!
Agora vamos à segunda etapa, treinar.
--------------
Para treinar, devem carregar no botão My buildings, de seguida em Tranning grounds e vai aparecer a seguinte página.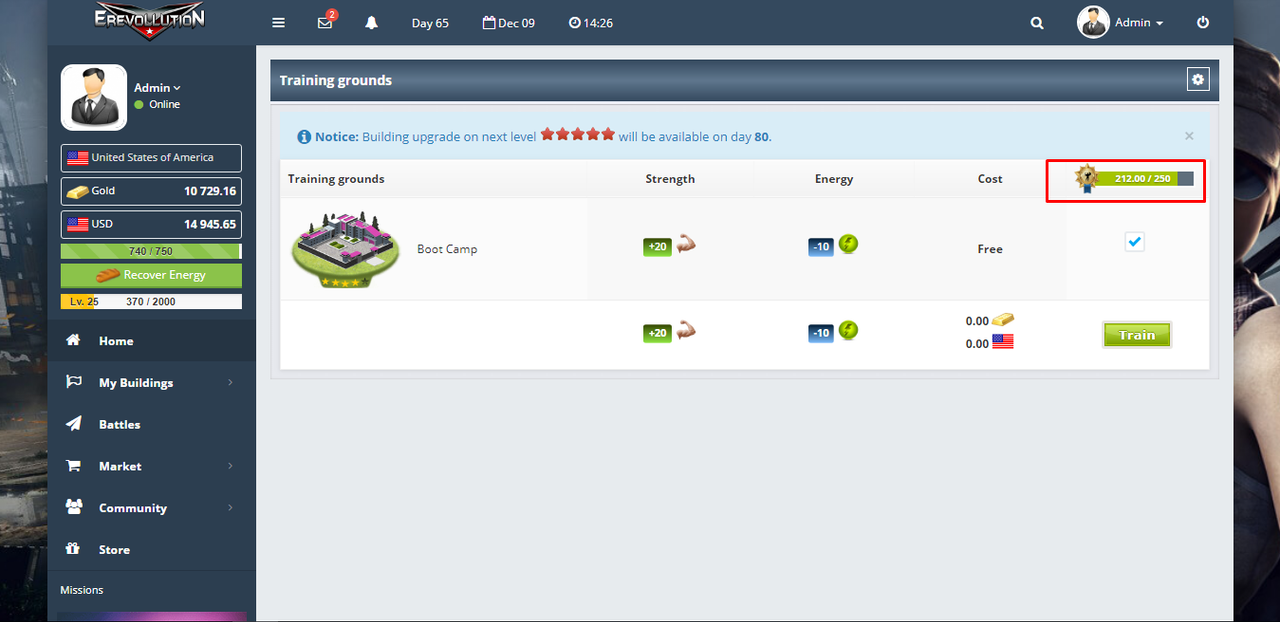 Para treinarem, carreguem no botão Train.

E assim mais uma tarefa diária está completa!
Agora só falta lutar no campo de batalha.
-------
Para lutar, deves juntar-te a uma unidade militar.
Para isso deves carregar no botão Community e por último em Military Unit.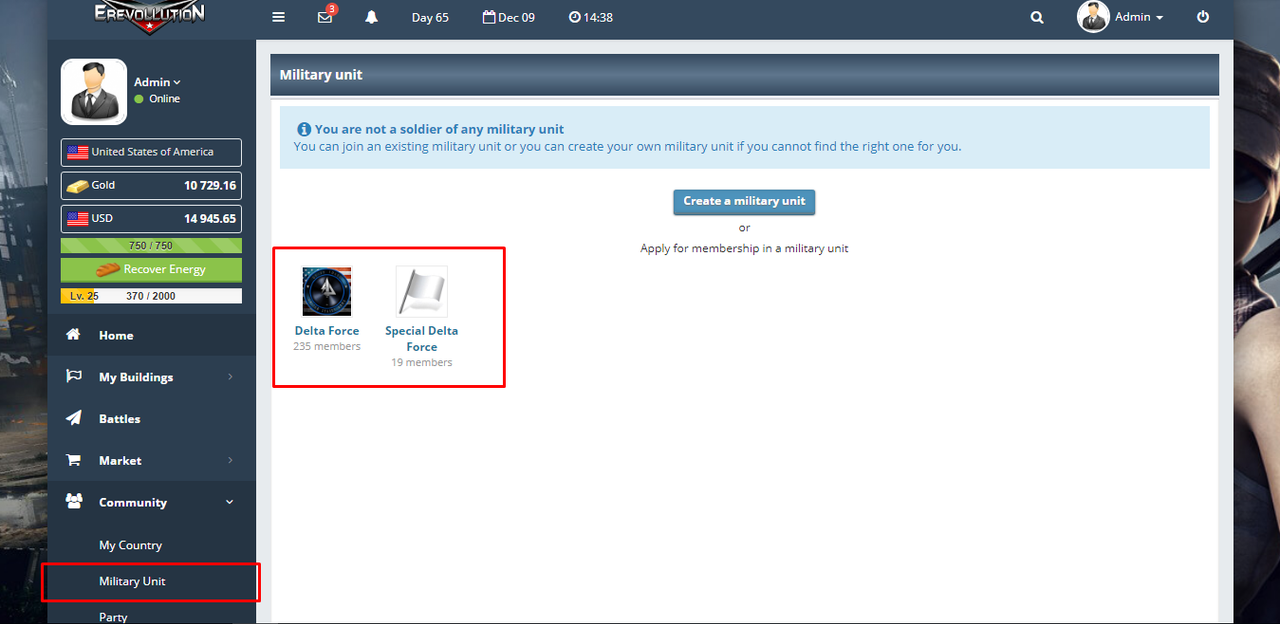 Por fim, devem escolher uma das unidades militares e lutar na ordem diária!
------------

E assim completamos as 3 tarefas diárias! Qualquer dúvida mandem-me mensagem.
E se estiverem interessados, juntem-se ao nosso canal do discord!





Hello everyone. This article is for the new players, so if you re a beginner, I recommend you to read it all!
In this game you don t have to do many things on a daily basis. Tasks are limited to:

. Work
. Train
. Fight

Sounds easy right? Let s go to the tutorial!

1st - Work

To work press the Companies button that is in the red rectangle. Then the following page will appear to you.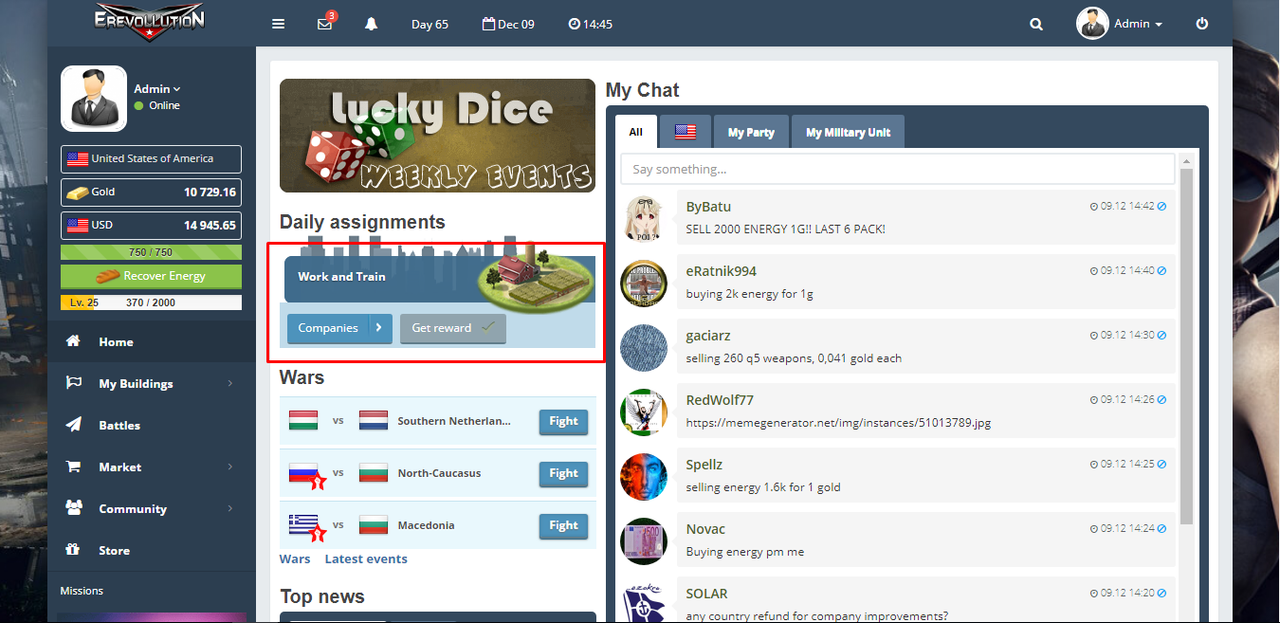 To get a job, click Get a job.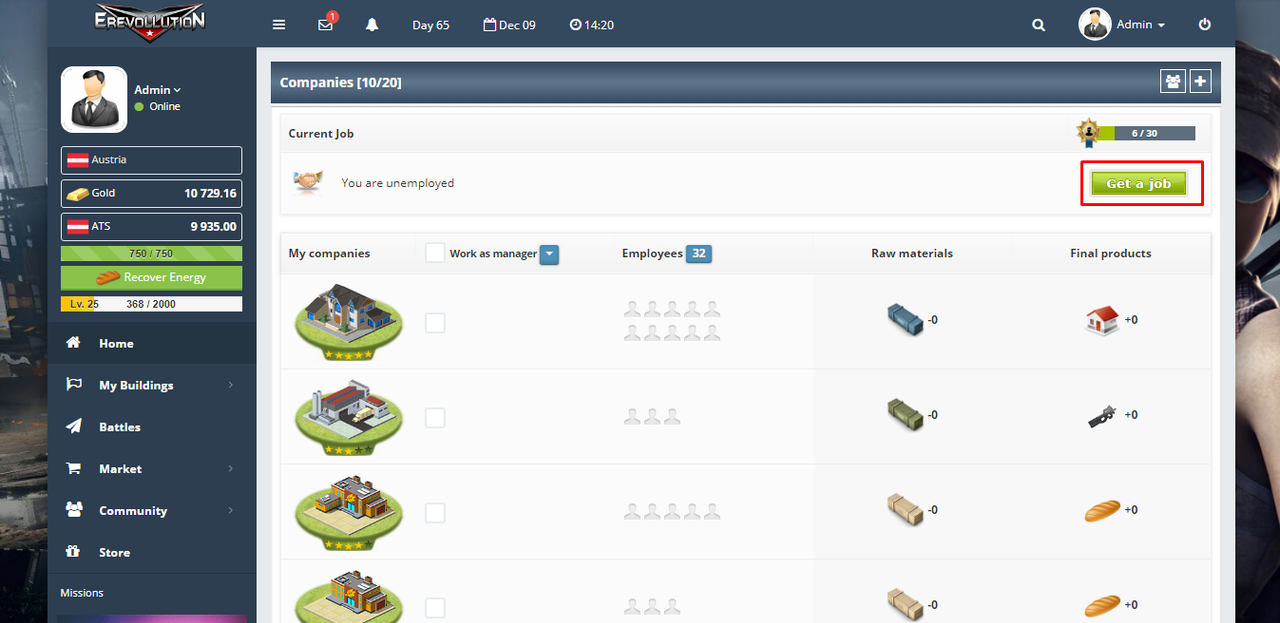 As soon as they load, various offers on the market will appear.Choose the offer that is at the top, because it is this one that offers a higher salary!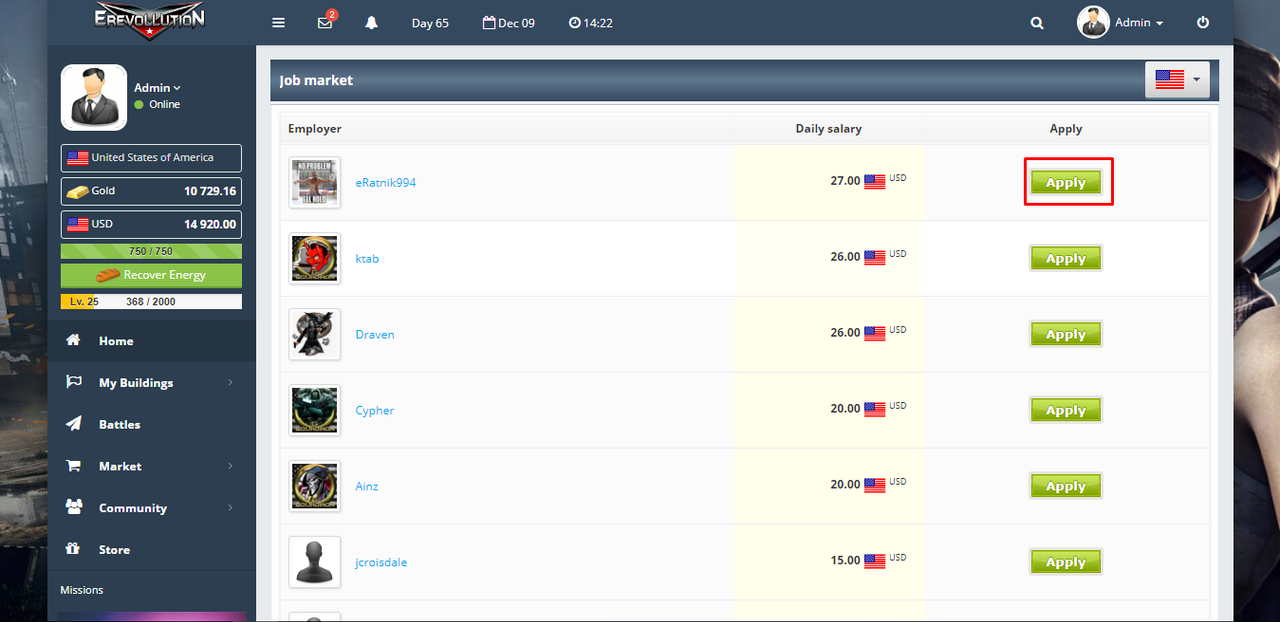 To work, click Work.

You have completed one of three daily tasks!

Now we go to the second step, train.

--------------

To train, you must press My buildings button, then Tranning grounds and the following page will appear.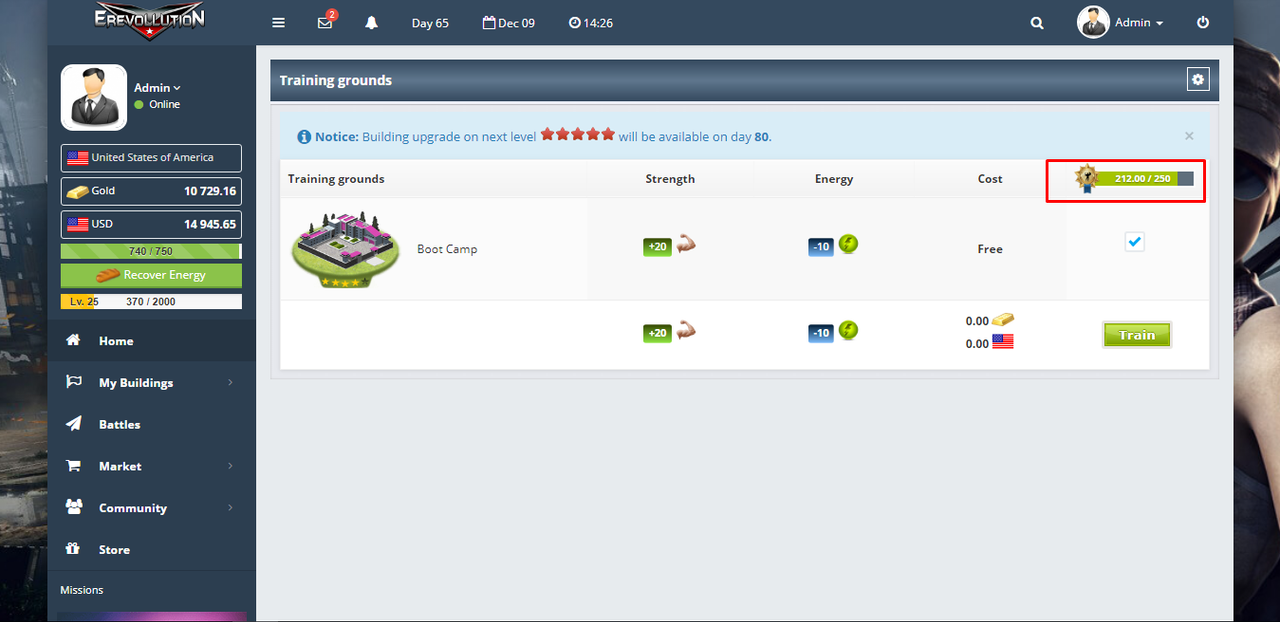 To train, press the Train button.

And so one more daily task is complete!
Now all we have to do is fight on the battlefield.

-------

To fight, you must join a military unit. To do this, click on the Community button and finally on the Military Unit.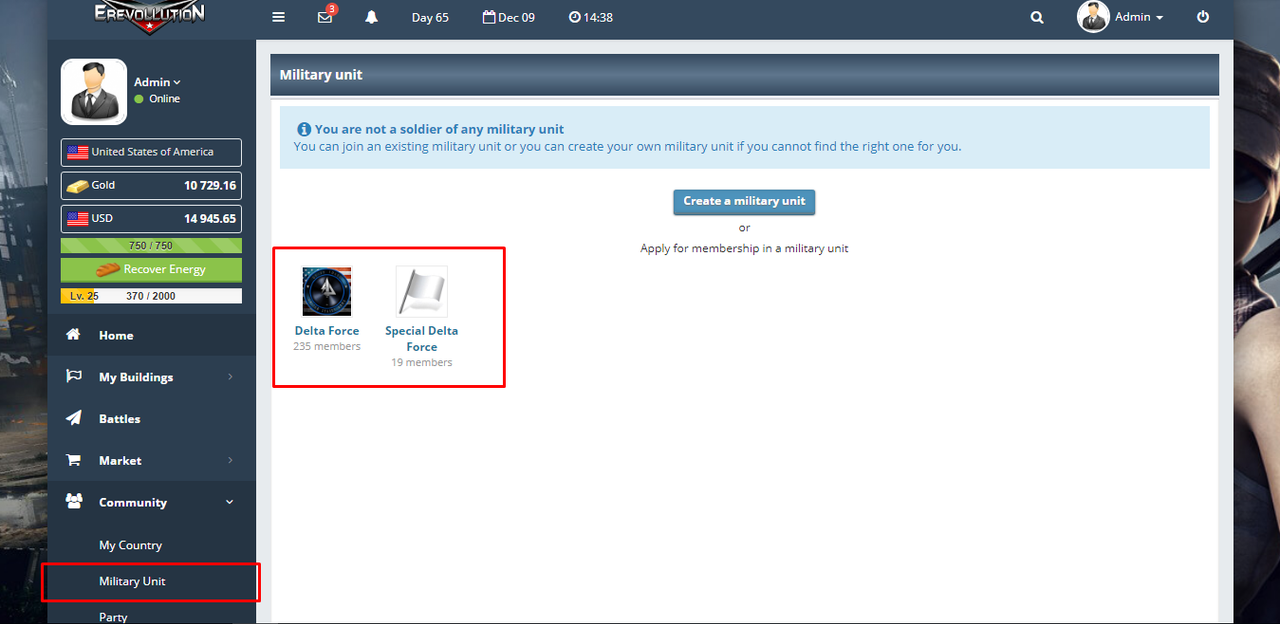 Lastly, you must choose one of the military units and fight in the daily order!

------------

And so we completed the 3 daily tasks! Any questions send me a message.
And if you are interested, join our discord channel!
https://discord.gg/scAsAXg
Support