Published in Serbia - First steps in eRevollution - 22 Oct 2018 03:52 - 72
DON'T BE SHEEP - FOLLOW YOUR BRAIN
Few days ago we -players realized that without referrals and buying gold TG3 was mission impossible. Great campaign was started to explain administrators that their test is not working in real time situation in this game. Finally, date for TG3 upgrade was delayed and new missions introduced to the game. The feeling was great, i was so proud and happy, admin team cars about game and players in it... 
I must say that this was big thing for us here, because 60% of people here remember how we were treated on server1 of this game. People are not going to let you treat them like sheep and keep playing the game. Server1 is proof of that. ITS GOING TO DIE!!!

Today when I entered the game i saw this: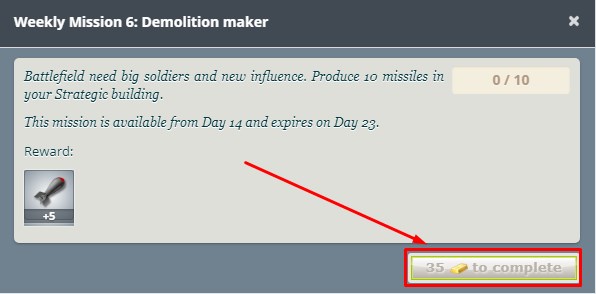 I must react to this.
1. I don't say that this is too much gold for mission 
2. I don't say that changes are bad for game
3. I don't think that we should get free gold or cc
4. I don't say that buying gold for RL money is bad
5. I don't say that you don't need to control amount of gold in game
... etc ...

ONLY THING THAT I SAY IS THAT YOU NEED TO THINK BEFORE YOU ACT !!!

1. If you put 35g when you released the mission, there would be no problem. 
2. If you said that 10g will be active 3 days, and after that price would be 35g, there would be no problem.
3. If you wanted reward to be 3q3 missiles because of gold income, you should have put it on start, there would be no problem.
4. If you put level requirements to 19lvl or 20lvl there would be no problem.

PROBLEM IS WHEN YOU CHANGE THINGS IN GAME WHILE THEY ARE STILL ACTIVE, WITHOUT ANY NOTION ABOUT THE CHANGE!!!

You can talk with moderators, or with normal players from this games about ideas how to improve things when you plan to release them. When you have problem with amount of gold in game, let the players know that and let them chose between few options which suits best for everybody. DONT DO THINGS ON YOUR OWN, ALONE, AND WITHOUT ANY NOTION. PL
AYERS ARE LEAVING BECAUSE OF YOU, NOT BECAUSE OF THE GAME. I KNOW LOT OF PEOPLE THAT DID NOT JONI SERVER2 BECAUSE ADMIN TEAM IS THE SAME, AND YOU DON'T CARE!!!
DON'T SAY  YOU ARE GOING TO ROLL-BACK THE GAME, AND THAN CONTINUE LIKE NOTHING HAPPENED.

And for you my dear friends, you are most important to me here. I play game because of you, not because of the game it self. DON'T LET SOMEONE TREAT YOU LIKE SHEEP, AND STILL TAKE YOUR TIME AND MONEY. THIS IS NOT ABOUT 25g DIFFERENCE, THIS IS ABOUT PEOPLE CARING ABOUT GAME.


REMEMBER SERVER1 DON'T LET THEM DO THIS TO US!!!

EDIT











WHEN YOU SEE THIS, YOU KNOW THAT THINGS ARE SERIOUS: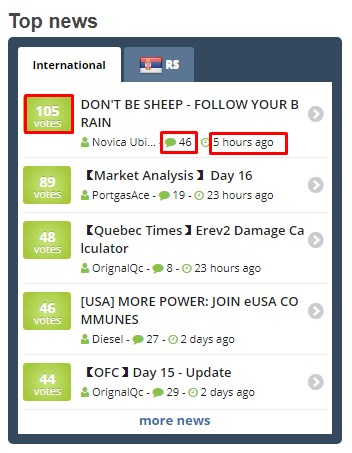 Support
Mario
DamaChen
Galadrael
PortgasAce